Haroshi 'Virtual Reality' Exhibit – Art of recycled Skateboard Decks (22 Pictures)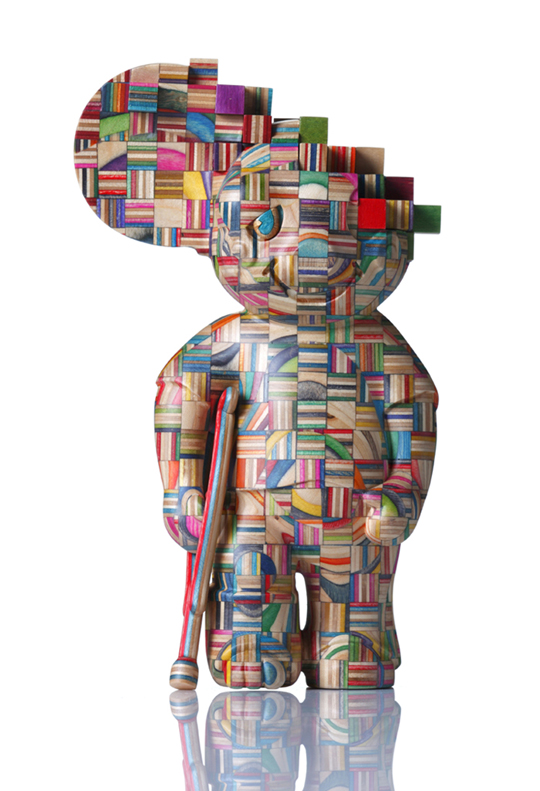 Es gibt Neues von dem aus Tokyo kommenden Künstler Haroshi (der mit den Artworks aus alten Skateboard-Decks). Im Rahmen seiner "Virtual Reality"-Ausstellung in der Jonathan Levine Gallery wurden diese neuen Skulpturen jetzt das erste Mal der Öffentlichkeit gezeigt. In den vergangenen Wochen sind z.B. die Skate-Cat hier unten oder der Zahnklammer-Totenkopf bereits hier und da im Netz aufgetaucht, hier gibt es jetzt eine Übersicht aller neuen Werke. Teilweise erinnert mich der Stil an KAWS (bei der Skate-Mouse hier oben z.B., mein absoluter Favo!) aber so Sachen wie die Plexiglas-Sneakers und die Devils-Büste sind natürlich absolut unique – könnt' ich durchdrehen! Wer in New York ist – bis zum 9. Februar läuft die Ausstellung noch – uberdope:
"Haroshi creates three-dimensional wooden sculptures with used skateboard decks as his primary medium. He often uses the wheels and other hardware parts as accents, even the grip tape for a sanding tool. He achieves a vibrant striped pattern by stacking the boards with keen attention to the exposed rails (outer edges). After a careful selection process, he stacks decks into layers, cutting them into cubes to form mosaics patterns, assembles them into a desired shape and meticulously carves each form by hand with an uncanny level of skill and precision. Themes in this exhibition include concepts familiar to any skater or artist such as: injury, recovery, obsession, perseverance, healing and growth."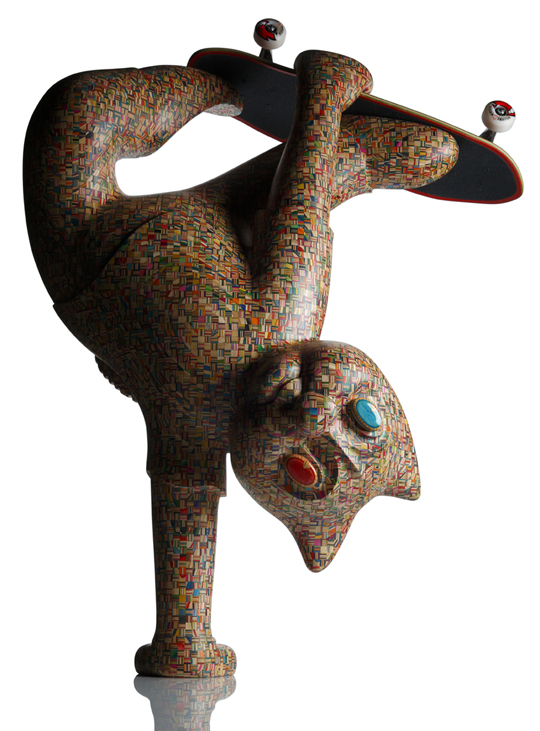 More pictures on page 2 – click below!
Kommentare
Eine Antwort zu "Haroshi 'Virtual Reality' Exhibit – Art of recycled Skateboard Decks (22 Pictures)"