Streetart: Fin DAC x Angelina Christina "The Mountain Charmers" – New Mural in Palm Springs // USA (4 Pictures)
Vor knapp einer Woche waren Fin DAC und Angelina Christina noch in Minneapolis unterwegs und beendeten ihren Aufenthalt dort mit "The Serpenteens". Nun sind sie weiter nach Kalifornien gezogen und präsentieren uns in Palm Springs auf dem North Palm Canyon Drive mit ihrem neuen Mural "The Mountain Charmers" ein weiteres Werk ihrer Zusammenarbeit, welches sich vor allem durch die beiden weiblichen Charaktere auszeichnet. Detaillierte Einblicke gibt es nach dem Jump.
After Minneapolis a few days ago, Fin DAC and Angelina Christina are now in California where they spent a few days working on this new piece in Palm Springs. Painting one wall after the other, the street art duo dropped a beautiful signature piece entitled "The Mountain Charmers". Take a look at some more detailed images after the break and then if you are in the area, you'll be able to find it at the "Bar Was Taken" on 340 North Palm Canyon Drive.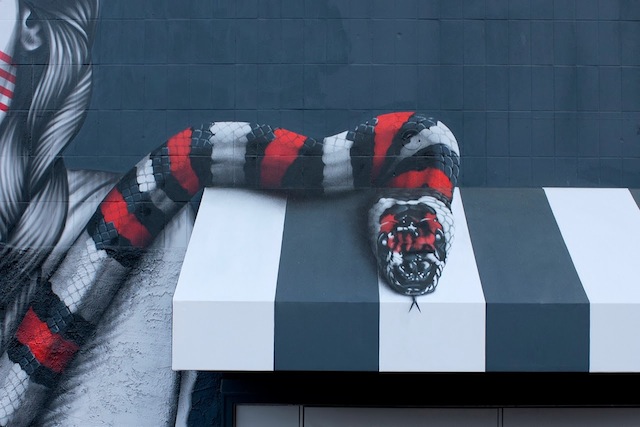 ___
[via]
Kommentare