Incredible Sushi Art by Tama-Chan (16 Pictures)
Tama-Chan ist ein aus Tokio/Japan kommender Sushi-Koch, um nicht zu sagen: Sushi-Virtuose. Denn was der Typ sich im Laufe der Jahre für Roll-Skillz angeeignet hat, würde selbst B-Real von Cypress Hill vor Bewunderung aus dem Sessel hauen. Wer sich von Euch schon einmal im Sushi-DIY ausprobiert hat, weiss, wie schwer allein einfache Maki-Rollen herzustellen sind. Wie man solche Artworks wie hier jedoch zustande bringt, ich habe absolut keine Ahnung. Ein übermenschlicher Wahnsinn – und Hunger habe ich jetzt auch:
"A sushi chef by the name of "Tama-chan" uses this delicious Japanese food as a canvas for his art. Requiring a bit of visualization, the artist puts the relevant ingredients within the sushi, picturing how the cross-section of the roll would look like once he slices it up. Tama-chan features famous paintings like 'The Scream' by Edvard Munch, but also more creepy subject matter like a baby in a womb. As many people want to learn how he does it, he has set up classes in Tokyo's Omotesando neighborhood to impart his craft."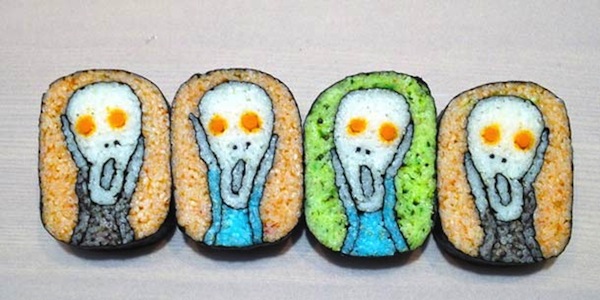 More pictures on page 2 – click below!
Kommentare