"Coffee Time" – Typographic Art On Discarded Coffee Cups by Rob Draper (9 Pictures)
Wie aus vermeidlichem Abfall Kunst entstehen kann, haben wir erst gestern anhand der Arbeiten Kim Alsbrooks sehen können. Der in London ansässige Designer & Illustrator Rob Draper wandelt auf ganz ähnlichen Pfaden. Grundlage für seine Kunst sind hier Kaffeebecher, wie sie in den lokalen Coffee-Shops dieser Welt täglich haufenweise entsorgt werden, Typograhie sein Stilmittel. Im Rahmen seiner Serie "Coffee Time" bewahrt der Künstler einige nicht mehr benötigte Kaffee-Behältnisse vor dem Weg in den Abfalleimer und haucht ihnen neues Leben in Form ästhetischer Kunstwerke ein, welche dann so eingängige Slogans wie "R is for refill" oder "Always cry over spilt coffee" im Typo-Style zieren. Wer die fortlaufende "Coffee Time"-Serie weiter im Auge behalten möchte, sollte dringlichst Draper's Instagram-Account im Auge behalten. Einige seiner dopesten Typo-Artworks haben wir hier für Euch zusammengetragen. Enjoy:
A clever typographic artist, with some serious Sharpie skills, by the name of Rob Draper has found a fun use for all those discarded paper cups found lying around your local coffee shop- he created a series of artworks called "Coffee Time".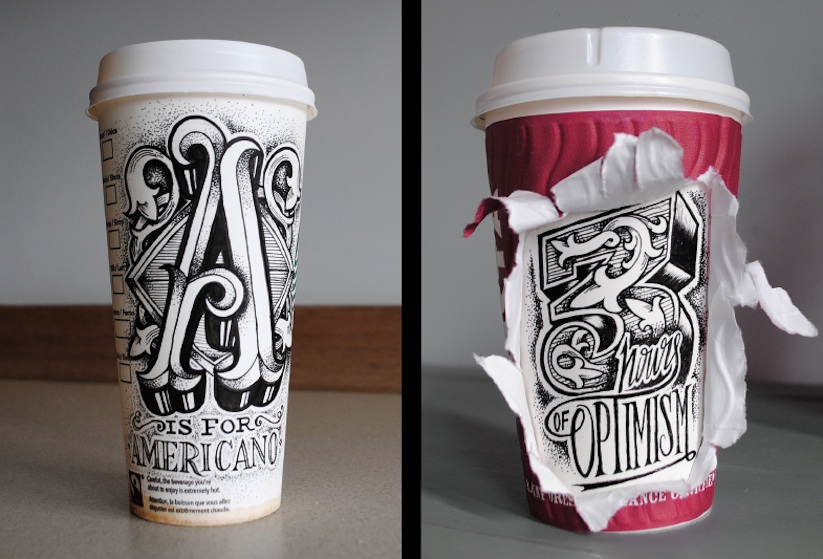 ___
[via neatorama, all Pictures (c) by Rob Draper]
Kommentare
2 Antworten zu ""Coffee Time" – Typographic Art On Discarded Coffee Cups by Rob Draper (9 Pictures)"