These World Cup Hot Dogs Will Fill You with National Pride and Heartburn (7 Pictures)
Mmmhh, sieht das lecker aus. NICHT. Wobei… wenn ich es mir recht überlege, scheint das doch das ultimative Kater-Frühstück zu sein. Alles was du brauchst um deinen Elektrolyt-Haushalt wieder auf die Beine zu bringen. Von deftig, über salzig bis Glutamat ist alles dabei. Yay und Herzinfarkt Ahoi! Pizzaburger, Rollmops, Döner und Co. ist nichts gegen die kulinarische Finesse des brasilianischen Würstchenverkäufers WDOG. Die Leute mögen Fußball und Hot Dogs. Eine einfache Rechnung, die aufzugehen scheint; auch wenn sie gewöhnungsbedürftig ist. Andere Länder, andere Sitten! Die "World Cup Hot Dogs" matchen die jeweiligen Farben der Flaggen und bersten vor Leckereien aus den Ursprungsländern. Mein Favorit: ze tscherman Hot Dog mit Kartoffelpüree, Gurken, Sauerkraut, karamellisierten Zwiebeln und Senf. Omninomnom!
Even if you can't attend World Cup matches in person, you can still enjoy good stadium food and the comfort of your own couch. Grill up some hot dogs and turn on the TV set. But if you can make it to Brazil, visit the WDOG food seller. It created these elaborate hot dogs inspired by the flags and traditional foods of competing countries.
Mexiko: Doritos, würzige Chili, Guacamole, und Paprika
Brasilien: Bohnen, Bananen-Mehl, Speck und Kohl
Italien: Polpettone mit Mozzarella gefüllt, gekrönt mit Tomatensauce und Basilikum
Deutschland: Kartoffelpüree, Gurken, Sauerkraut, karamellisierten Zwiebeln und Senf
Japan: Sushi-Rolle, Sukiyaki, Tara-Sauce und Sesam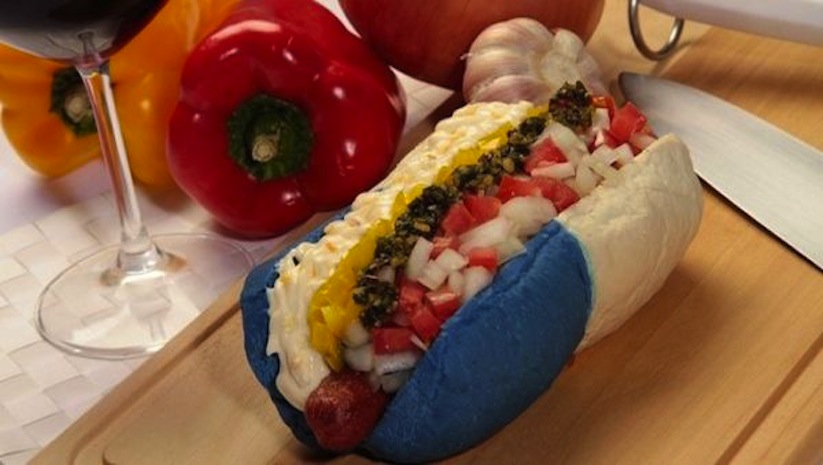 Argentinien: Argentinisches Wurst, Knoblauch, Mayo, Vinaigrette, gelbe Paprika und Chimichurri-Sauce
___
[via Neatorama]
Facebook Comments:
Kommentare