Sally Fitzgibbons Tackling A Wave In Dubai (Video)
Surfen in der Wüste? Ja, im mittleren Osten ist inzwischen vieles möglich. Die australische Surferin Sally Fitzgibbons hat kürzlich zum Trainieren den Wavepool des Wadi Adventure Resorts in Dubai besucht. Dort gibt's eine künstliche Welle, die eine Höhe von 3,3 Meter erreichen kann und alle 90 Sekunden aus der Wellenanlage gepumpt wird.
A surf location like no other on earth. In this emotive art film Sally Fitzgibbons tackles one of the most unique waves on the planet. Shot in beautiful super slow motion in a striking landscape, this film follows Sally through Dubai and the Al Ain desert as she takes her surfing to the air.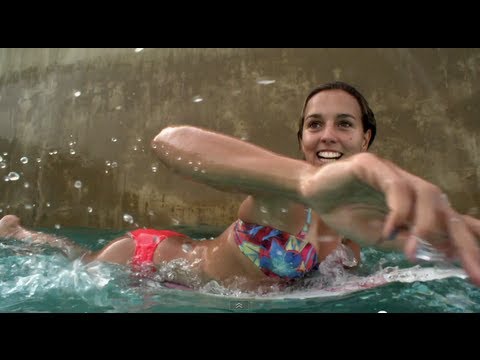 Shane Fletcher hatte kürzlich ebenfalls einen Ausflug zum Wavepool nach Dubai unternommen und hierbei diesen schön – von Vimeo geadelten Clip – produziert:
Facebook Comments:
Kommentare
3 Antworten zu "Sally Fitzgibbons Tackling A Wave In Dubai (Video)"