RESEEN: A Transformation of Visualisations (Full Lenght Clip)
Dieser Clip hier ist von bis hinten einfach nur supergeil, ich verlange ja nicht viel, aber ganz ehrlich mal: guckt Euch den an! Über das MADE-Projekt hatte ich in der Vergangenheit ja immer mal berichtet, im Grunde geht es darum, Künstler aus unterschiedlichen Genres zusammenzubringen und Synergien zu erschaffen, wie z.B. beim "Moments"-Project mit Aloe Blacc, Mihalj Kekenj & Jaybo – ein Soul-Sänger/Rapper, ein Dude aus der klassischen Musik und ein Maler/Streetartist, die gemeinsam Geilstes auf die Bühne brachten.
Für RESEEN sind nun sieben kreative Berliner Talente zusammengekommen, um die Fotografien von HipHop-/Street-Photographer Jonathan Mannion neu zu interpretieren – jeder auf seine seine bevorzugte Weise und jeder wirklich ziemlich derbe. Mit dabei sind Amine Bendriouich (Mode), Christian Awe (Malerei), Conny Dreher (Graphikdesign), Ebon Heath (Typographie), Good Wives und Warriors (Malerei), Lukas Feireiss (Illustration) sowie Noelle (Bildhauerei), am Ende gibt es ein paar Impressionen der Veranstaltung im MADE. Alles unheimlich gut gefilmt, top geschnitten und mit großartiger Mucke unterlegt. Wie gesagt – schaut's Euch an:
RESEEN is a journey that brought together 8 creative talents from different artistic fields for an interdisciplinary exchange at MADE. The iconic images of renowned photographer Jonathan Mannion were reinterpreted, reinvented and reseen by 7 Berlin-based artists: Amine Bendriouich (Fashion), Christian Awe (Painting), Conny Dreher (Graphic Design), Ebon Heath (Typography), Good Wives and Warriors (Painting), Lukas Feireiss (Illustration) and Noelle (Sculpting). The film documents the journey beginning in Mannion's NYC studio, then over to Berlin, stopping at the different artists' studios and workplaces, and finally at MADE, where the pieces were present and reveled for the first time.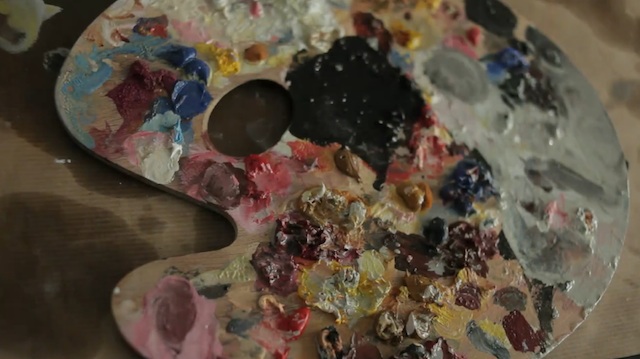 Clip:
[vimeo]https://vimeo.com/49194969[/vimeo]
Kommentare
Eine Antwort zu "RESEEN: A Transformation of Visualisations (Full Lenght Clip)"