Photography: Myth of the Flat Earth by John Clang (8 Pictures)
Es ist vermutlich mindestens genau so schwer, (hyperrealistische) Bilder zu malen, die wie Fotos aussehen, wie Fotos zu machen, die wie gemalte Bilder aussehen. Bei den Bildern der Serie "Myth of the Flat Earth" von dem aus New York kommenden Fotografen und Visual Artist John Clang (hier bei facebook, Ihr kennt ihn sicherlich noch von dem "Family Reunion via Skype"-Projekt) erkennt man auch nicht sofort, um was es sich handelt und wenn man es herausgefunden hat, stellt sich die nächste Frage: was möchte uns der Künstler hiermit sagen? Scheinbar schwebende Menschen in einem unsichtbaren Pool als Metapher für den Versuch, den gesellschaftlichen Erwartungen gerecht zu werden:
"A haunting icon and meditation of today's nerve-wrecked urban humanity, this photo series depict the desperate need to stay afloat—at all cost. A sense of paranoia pervades; even as the human figures tread on invisible waters in a pool three feet deep, constantly struggling to stay afloat, head above waters. Like them, we also strive ceaselessly to meet the high-water mark of society's expectations. In turn, these too have become the fatal waters we tread upon."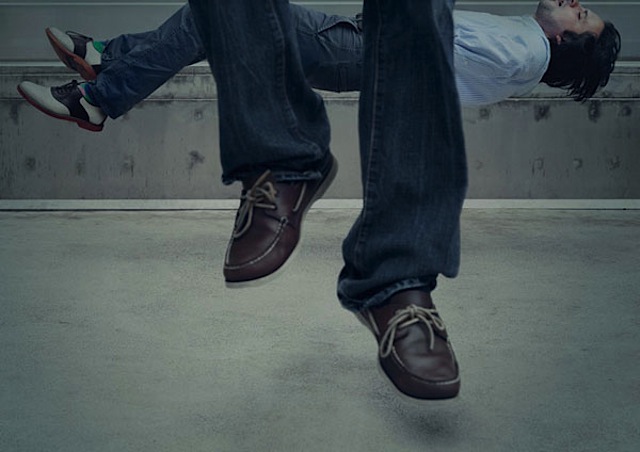 More pictures on page 2 – click below!
Facebook Comments:
Seiten: 1 2
Kommentare