"My White Trash Family" – Paintings On Flattened Trash by Kim Alsbrooks (8 Pictures + Clip)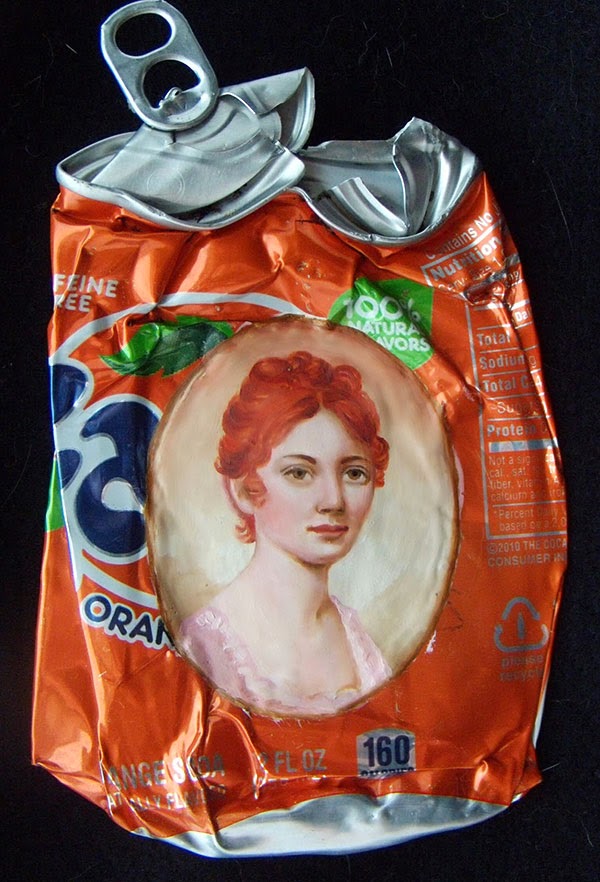 Eine herrlich ungewöhnliche Artworkreihe präsentiert uns hier die aus Charleston/South Carolina stammende Künstlerin Kim Alsbrooks. Anstatt ihre feinen Miniatur-Ölgemälde im Stile des 18.Jahrhunderts auf z.B. Elfenbein aufzubringen, nutzt die Absolventin der University of Arizona, nämlich auf ironische Weise "Street Trash" d.h. durch vorbeifahrende Autos oder LKWs abgeflachte Getränkebehältnisse wie z.B. Bierdosen oder Milchtüten. Seit 2004 entstanden so ca. 600 Artworks unter dem Titel "My White Trash Family" der mit Streetartist-Ikone Shephard Fairey eng befreundeten Dame. Eine Auswahl ihrer Arbeiten haben wir hier einmal zusammengetragen. Mehr zu ihren Beweggründen diese Serie zu starten, bei der unter anderem eine gehörige Portion Frustration sowie Protest gegen die generelle Haltung in den Südstaaten der USA ein Rolle spielen, erfahren wir im ebenfalls folgenden Clip:
Artist Kim Alsbrooks was born in Charleston, SC, like her homie, street artist and provocateur Shephard Fairey, and became a troublemaker of another sort with a series of miniature oil paintings – portraits on trash – which became her White Trash Family series.This series, begun in 2004, produced over 600 paintings in the course of ten years in a style that mimics the 18th century portraits of museum collections – and mocks them at the same time. Instead of producing fine portrait paintings on ivory, these are painted with gentle irony, absolute accuracy and exquisite detail, on trash. Street trash – mostly beverage cans flattened by passing cars and trucks – are her muse.
Clip:
[vimeo]http://vimeo.com/96878855[/vimeo]
___
[via faithistorment]
Kommentare