DJ Dister – "Roll Wit Dis" (Golden Era Album ft. KRS One, Kool Keith, Masta Ace, Kool G Rap, AG, Stylewarz + more)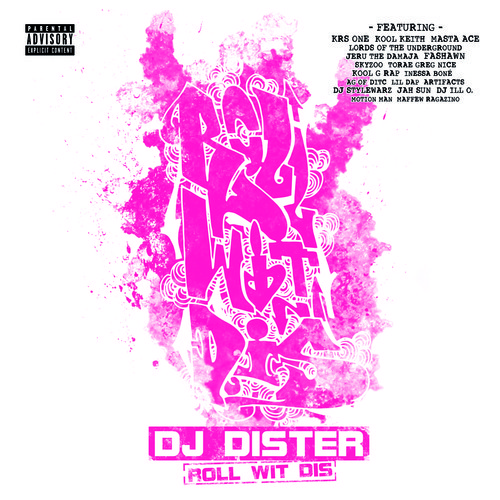 Gute Nachrichten für alle Freunde der Golden Era des HipHop: they're back! Zumindest ein paar von ihnen und DJ Dister, Teil der landesweit bekannten Berliner DJ-Posse Born 2 Roll, Produzent und Graffiti Writer, ist der Mann, der mit seinem Produzenten-Album "Roll Wit Dis" dafür verantwortlich ist. Gerade wurde das neue Video mit den Artifacts & DJ Stylewarz veröffentlicht, wir haben beide Videos aus der Compilation hier nochmal eingebunden. Neben den Artifacts ("Wrong Side Of The Track" anyone?) hat er noch weitere Legenden nach Berlin geholt, unter anderem gibt es Tracks mit KRS One, Kool G Rap, Masta Ace, Kool Keith, AG von D.I.T.C., Torae und von neueren Acts wie Fashawn oder Skyzoo auf "Roll Wit Dis". Ein sehr persönliches Dister-Album, selbst das Cover-Artwork kommt von dem jungen Mann. Das Ding kommt am 19.08. – this is HipHop:
DJ Dister – "Roll Wit Dis" – The Album drops on Itunes August 19th – Amazon August 23th – selected stores for vinyl August 23th.

Album-Snippet:
Video: DJ Dister feat. Artifacts & DJ Stylewarz – Regardless
[youtube]http://www.youtube.com/watch?v=h1vjk6GXp-4[/youtube]
Video: DJ Dister feat. A.G. of D.I.T.C. – Stop Frontin'
[youtube]http://www.youtube.com/watch?v=Sohek3adNs8[/youtube]
Kommentare
Eine Antwort zu "DJ Dister – "Roll Wit Dis" (Golden Era Album ft. KRS One, Kool Keith, Masta Ace, Kool G Rap, AG, Stylewarz + more)"