A Skate Video Shot in the Chinese Ghost Town of Ordos by Charles Lanceplaine (Clip)
Imposante Kulturgebäude, achtspurige Straßen ohne Autos, gigantische Shopping Malls und Appartmentanlagen – das ist Ordos, eine neue errichtete Stadtlandschaft mitten in der Wüste in der inneren Mongolei. Die Stadt, die auch als das Dubai Nordchinas bezeichnet wird, könnte bis zu 300.000 Menschen aufnehmen. Tatsächlich haben sich derzeit allerdings nur 5000 Einwohner gefunden, die hier leben wollen. Die Gründe hierfür sind vielfältig, heißt es. Auch wenn die Stadt kein großer Publikumsmagnet zu sein scheint, gab's zumindest dieses Jahr einen sieben Mann starken Kulturbesuch aus Amerika. Denn Jay Meador, Gustav Nymans, Tommy Zhao und einige andere Skater haben das Potenzial der Retortenstadt in puncto "skatebarer" Architektur entdeckt. Und die Jungs sollten Recht behalten und mit gigantischem Footage zurückkehren.
It's been called the Dubai of northern China, showered with wealth, packed with public infrastructure and located near to precious natural resources in a region plagued by water-supply troubles. Ordos is a ghost town located in Inner Mongolia. Seeing the potential of this city in terms of spots we decided to organize a skate trip and be the first ones to skate such a surreal place.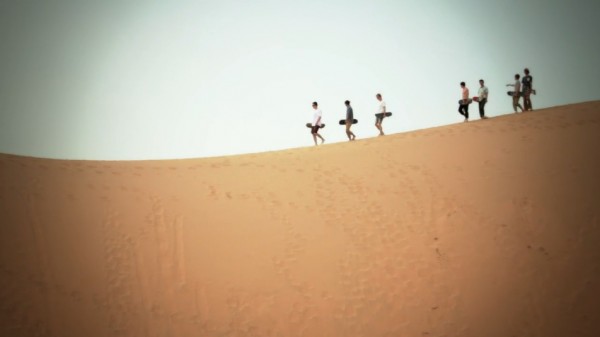 [vimeo]http://vimeo.com/51333291[/vimeo]
Kommentare
Eine Antwort zu "A Skate Video Shot in the Chinese Ghost Town of Ordos by Charles Lanceplaine (Clip)"