Streetart: Anthony Lister Portrait (16 Pictures plus Clip)
Endlich das schon länger angekündigte Portrait eines meiner absoluten Favo-Künstlern, Anthony Lister, aus Australien kommend und jetzt in New York lebend. Ich habe hier ein paar repräsentative Artworks für Euch zusammengesammelt, auf Page 2 gibt es noch ein paar Bilder von Anthony bei der Arbeit an einem Mural in Los Angeles (anlässlich des BluRay-Launches von "Rise of the Planet of the Apes") und einen sehr guten Fünf-Minüter, in welchem der Australier über seine Inspiration, die Entstehungsprozesse seiner neuesten Werke, über die Streetart-Kultur in L.A., über Techniken im Allgemeinen und seine sehr einzigartige Technik im Speziellen spricht (gemacht von Fotograf und Filmemacher Carlos Gonzalez).
Lister wurde 1979 in Brisbane/Australien geboren, hat als Maler und Installations-Künstler seit 2001 bereits Solo-Ausstellungen überall in Australien, den USA und Europa gehabt. Seine Arbeiten sind beeinflusst von Elementen aus diversen Genres, darunter Streetart, Expressionismus, Pop Art und zeitgenössischer Jugendkultur. Vor allem die Popkultur hat es ihm angetan, er beschäftigt sich häufig mit sozialkritischen Themen wie z.B. "falsche Vorbilder durch's Fernsehen", er verwendet eine Vielzahl von Medien, um seine Ideen wie Malerei, Zeichnung, Installation, Film und Musik zu kommunizieren.
Mir gefällt sein wirklich einzigartiger Style, Bilder von Lister erkenne ich anhand seines Strichs inzwischen mit einer unheimlich guten Trefferquote, wenn sie mir im Web über den Weg laufen. Wie versprochen hier eine kleine Auswahl, ein paar dieser Gemälde von Page 1 habt Ihr ganz sicher auch schonmal irgendwo gesehen:
Anthony Lister (1979 – present) is an Australian-born painter and Installation artist. He has had solo exhibitions across Australia, United States, Europe and UK. [...] He currently resides in Brooklyn, New York City. [...] Lister was born in Brisbane, Australia. He graduated from the Queensland College of Art in Brisbane in 2001. He has travelled extensively throughout the world exhibiting his work both in the gallery and on the streets. His wife and two children are featured in his "Have You Seen Them? The Listers" stickers. Photos or videos of his children are often seen in the "New" Section of his official website. (via)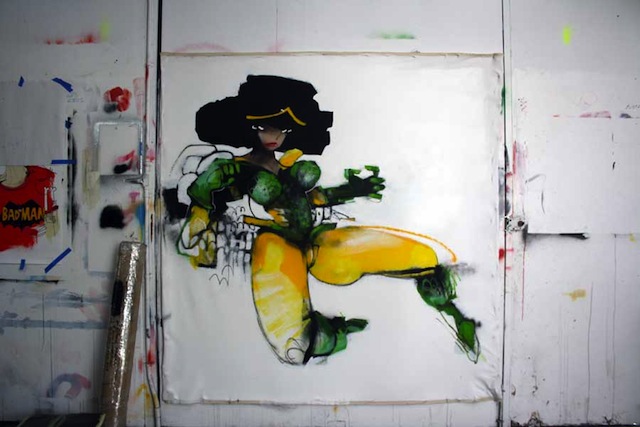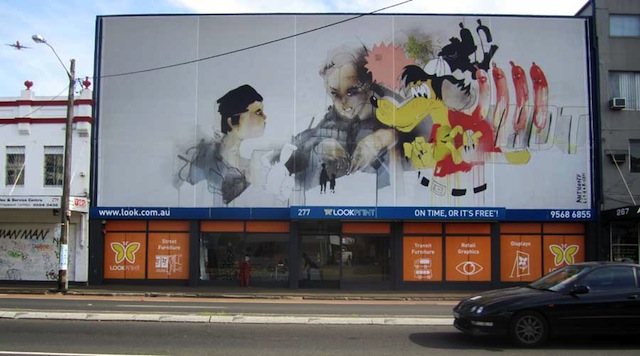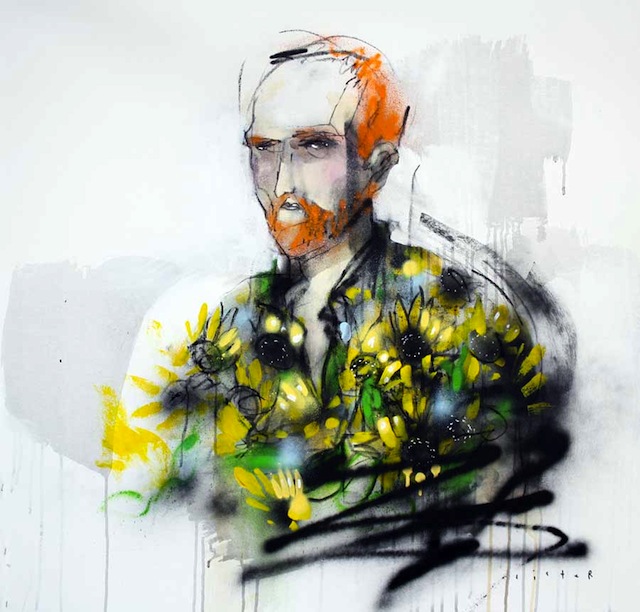 (go to page 2 – click below!)
Facebook Comments:
Seiten: 1 2
Kommentare
3 Kommentare zu "Streetart: Anthony Lister Portrait (16 Pictures plus Clip)"