Paintings Made On Incredibly Tiny Surfaces Of Chocolate, Nuts or Seeds (7 Pictures + Clip)
Der türkische Künstler Hasan Kale ist ein wahrer Meister in Sachen Miniatur-Artworks. Seine klitzekleinen Gemälde, welche Sehenswürdigkeiten und Landschaften seiner Heimatstadt Instanbul zeigen, sind für sich allein genommen schon absolut sehenswert. Der Umstand, dass er diese allerdings nicht auf einer Leinwand oder ähnlichem anfertigt, sondern vorwiegend auf essbaren und extrem klein bemessenen Gegenständen des täglichen Bedarfs, lässt seine Arbeiten nochmal um ein Vielfaches beeindruckender daherkommen. Inspiration für seine doch sehr unkonventionellen Maluntergründe wie beispielsweise Obst-Kerne, Zwiebeln oder Bohnen findet Kale im heimischen Haushalt… oder aber auch in der Handtasche seiner Partnerin. Man kennt das, kaum eine Frau verzichtet heute noch auf das liebgewonnene Taschen-Accessoire, wie es sie beispielsweise in Hülle und Fülle bei Tasko.de zu shoppen gibt, wenn die heimischen vier Wände verlassen werden. Die modischen und praktischen Begleiter haben doch in der Regel auch inhaltlich ein ganze Menge zu bieten. Ganz egal ob nun Shopper, Umhänge- oder Henkeltasche – Hasan Kale findet mit Sicherheit in jedem dieser Modelle etwas Brauchbares um seine Kunst darauf zu verewigen. An Erdnüssen, Mandeln oder Schokolinsen hat sich der Künstler bereits ausgetobt. Es ist jedoch davon auszugehen, dass der Maler vom Bosporus auch zukünftig noch genügend Gegenstände finden wird, welche er mit seinen herrlichen Gemälden veredeln kann. Einige seiner beeindruckenden Miniatur-Arbeiten sowie einen kurzen Clip vom Künstler bei der Arbeit findet Ihr direkt hier unten. Enjoy:
You may have seen some of Hasan Kale's micro paintings on butterflies and snail shells, but this year he seems to be focusing more on food. Like every small edible thing from fruit seed to peanut is painted on. The landscapes are depictions of his native Istanbul, from the Nusretiye Mosque illustrated on a half-peeled almond to another picturesque scene on a Milka square (which is my favorite). Kale keeps challenging himself to go beyond his limits and artistically conquer all tiny surfaces.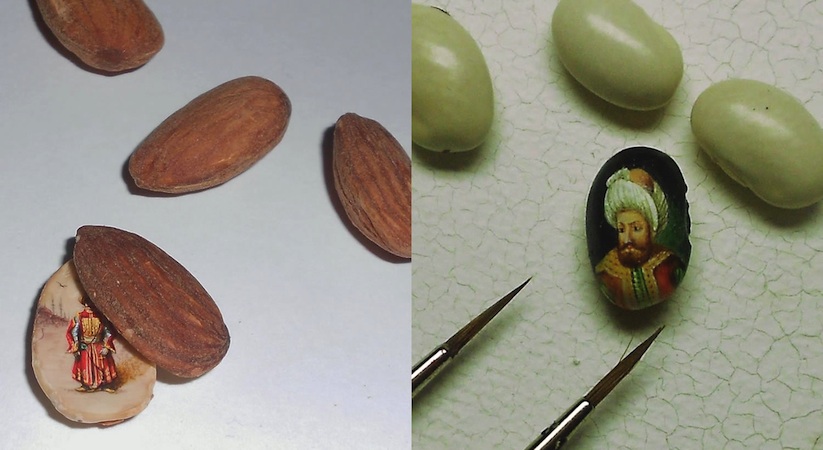 Clip: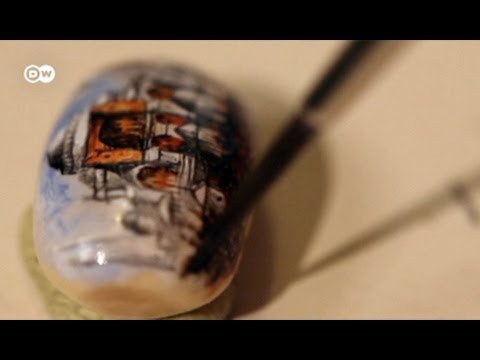 ___
[via illusion]
Facebook Comments:
Kommentare