1/6 Scale Collectible Michael Jordan Figure by Enterbay (7 Pictures)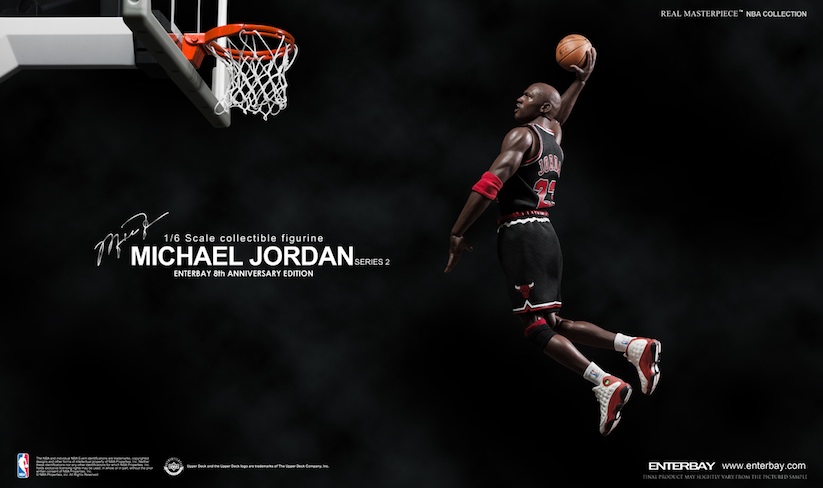 Das Unternehmen Enterbay aus Hongkong/China beschäftigt seit etwa 10 Jahren eine ganze Reihe talentierter Designer, Techniker und Ingenieure, um atemberaubend authentische Figuren von Film-Helden oder Sportlern herzustellen. Unter anderem entwarf das chinesische Team auch eine traumhafte Figur von Basketball-Legende: Michael Jordan. Die ca. 33 cm messende Figur kommt im schwarzen Chicago Bulls-Dress aus dem Jahr 1998 daher und wurde mit diversen Extras wie einem Chicago Bulls Team Warm Up Suit, wechselbarem Schuhwerk (Air Jordan 1 Original 1985 + Air Jordan XIII '97 Original) oder 1/6 Scale Spalding Basketball ausgestattet. Der durch extreme Authentizität beeindruckende Kopf der MJ-Figur, wird sogar in einem speziellen "Multi Layer"-Verfahren handbemalt. Aktuell lässt sich das Masterpiece aus der NBA-Collection, welches sich mit Sicherheit auch ganz bezaubernd unter dem ein oder anderen Weihnachtsbaum machen würde, für 234$ im Online-Shop von Enterbay erwerben. Einige Bilder der Figur findet Ihr direkt hier unten:
If you aren't familiar with Enterbay figurines, then you're missing out on some of the most detailed figures ever. The company specializes in recreating figures down to the smallest detail and the latest creation, is Michael Jordan accompanied by several items that were essential in his Chicago Bull years.

___
[via modern-notoriety]
Facebook Comments:
Kommentare