What The World Eats In A Week – 23 Families of 23 Countries And Their Weekly Food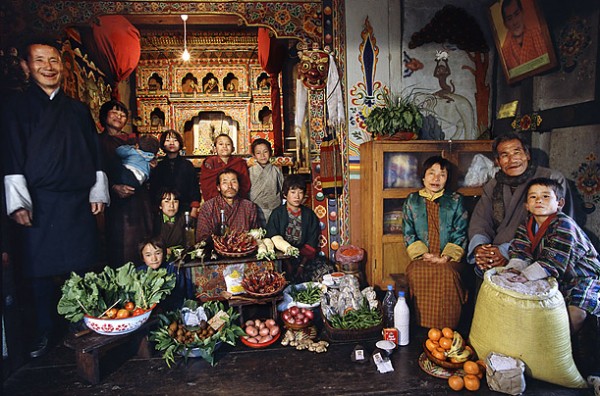 Bhutan
Tolles Projekt von Peter Menzel und seiner Frau Faith D'Aluisio, die für ein neues Buch um die Welt gereist sind und sich mit 30 repräsentativen Familien aus den jeweiligen Ländern getroffen haben, um das jeweils wöchentliche Essen zu analysieren. Daraus entstand ein Fotobuch namens "Hungry Planet: What The World Eats In A Week", welches neben diesen Bildern hier zahlreiche, weitere Informationen und Bilder zum jeweiligen Umfeld, zu den Kosten, zu den Behausungen und zu den Märkten liefert. Von Bhutan bis in die USA (aus den Staaten sogar 3 Beispiele) ist Alles dabei:
"Peter Menzel came up with another brilliant book idea. Teaming up with his wife Faith D'Aluisio, the duo got to spend time with 30 families around the world and analyze their weekly groceries for Hungry Planet: What the World Eats in a Week. In the book they describe the weekly food purchases and costs, showing photographs of the family at home, at the market, in their community, and these portraits of the entire family surrounded by a week's worth of groceries."

Australia



Canada

Chad

China

Ecuador

France

Germany
More pics on page 2 – click below!
Facebook Comments:
Kommentare
3 Antworten zu "What The World Eats In A Week – 23 Families of 23 Countries And Their Weekly Food"