Tumblr of the Day: "B4-XVI beforesixteen" – The Parallels between modern Hip Hop and Pre-16th-Century Art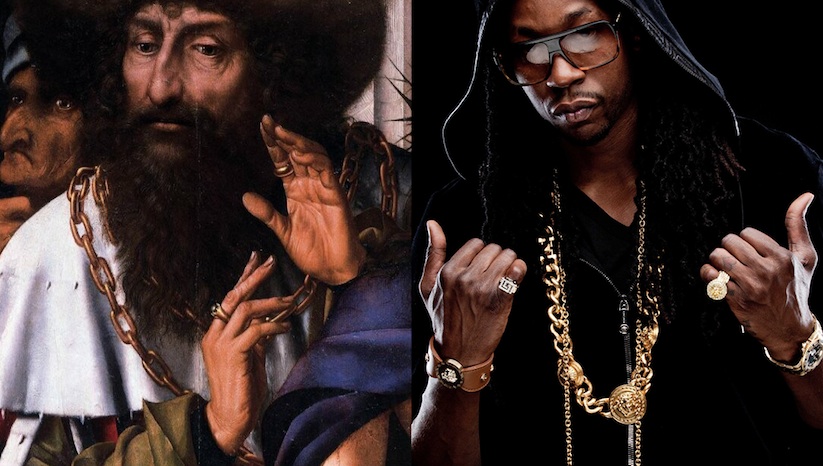 Die in New York City ansässige Cecilia Azcarate ist beruflich als Creative Director tätig. Die Liste der Klienten, welche die junge Dame bereits erfolgreich betreute ist mit Google, facebook, Nike, Calvin Klein, Absolut Wodka sowie Toyota und Lexus, durchaus prominent besetzt. Im Rahmen eines privaten Projekts stellte die Musik-affine Azcarate nun Gemälde und Skulpturen von Personen, die vor dem 16. Jahrhundert gelebt haben, Fotografien von aktuellen Artist aus dem Rap-Biz gegenüber. Wie eng einige dieser historischen Bildnisse, teilweise offensichtlich mit Aufnahmen von Rappern wie beispielsweise Kanye West, 2 Chainz, Wiz Khalifa oder Rick Ross verbandelt zu sein scheinen, lässt sich auf ihrem grandiosen tumblr-Blog "B4-XVI beforesixteen" verfolgen. Just have a look:
The tumblr-Blog "B4-XVI before sixteen" by Cecilia Azcarate is highlighting an invisible conversation between hip hop and art before the 16th century.

Left: The Adoration of the Magi.Hugo van der Goes. Netherlandish. Late 15th century. Right: Wiz Khalifa

Left: detail of Virgin and Child Enthroned with Scenes from the Life of the Virgin Morata Master. Spain – 15th century – Right: Future

Left: Henry VIII by the studio of Hans Holbein the Younger, 1540-1550 / Right: Rick Ross

Left: Jan van Eyck. Ghent Altarpiece detail. c. 1432 / Right: The ATL Twins.

Left: Perugia Altarpiece left panel by Fra Angelico, 1437 / Right: Kanye West and Pastor Rich Wilkerson Jr at Kim & Kanye's wedding.

Left: detail of Christ Blessing surrounded by a Donor Family. Unknown German Painter 1560 – Right: Kanye West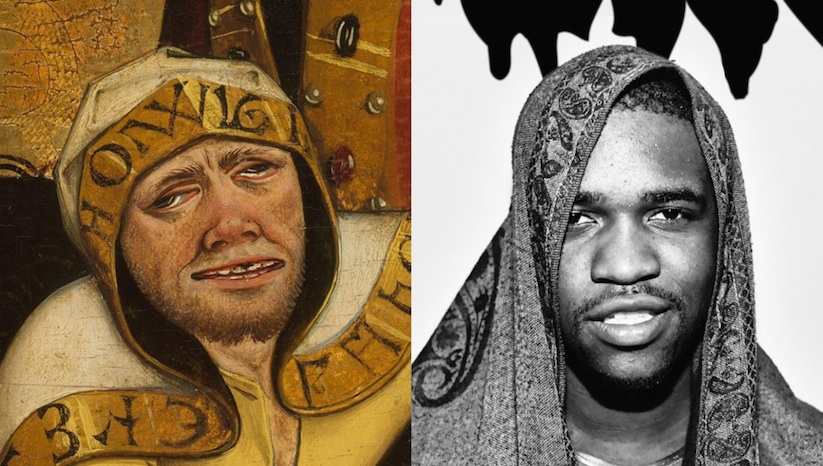 Left: "The Martyrdom of Saint Lawrence," oil on wood, by Masters of the Acts of Mercy (Austrian, Salzburg, c. 1465) Right: ASAP Ferg

Left: Reliquary arm of St. Valentine 14th century Swiss Right: 2 Chainz

Left: Male Ancestor. 1st–4th century. Mesoamerica. Nayarit – Right: Young Thug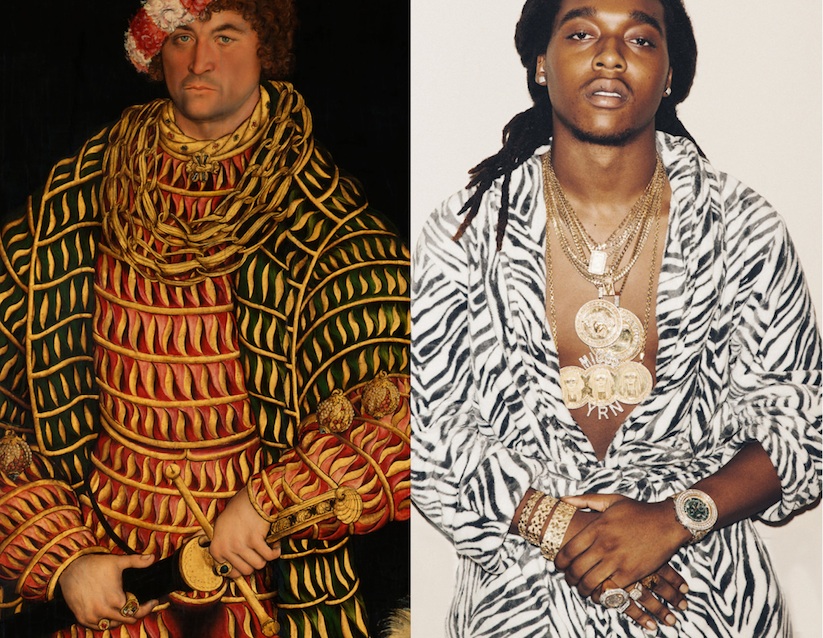 Left: Portrait of Henry the Pious, Duke of Saxony by Lucas Cranach – 1514 / Right: Takeoff from Migos

Left: A. Durer Praying hands (removed from background) 1508 / Right: Drake 6 artwork 2014/2015
___
[via Dazed]
Kommentare