Sophisticated Villa in Thailand with Infinity Pool (18 Pictures)
Hier lässt sich garantiert ein smoothes Wochenende mit Freunden verbringen. Die Villa Michaela auf Koh Samui in Thailand überzeugt nicht nur mit einem Infiinity Pool mit Blick aufs Meer und die Tempel von Wat Plai Laem sondern bietet zu relativ moderaten Preisen noch jede Menge Luxus: 5 Schlafzimmer mit Doppelbett und Klimaanlage, sowie jede Menge technischen Spielerein von Flatscreens über iPod-Dockingstations bis hin zu einem Indoor-Kino für die regnerischen Tage. Gelegen ist die Hütte zwischen den beiden Städten Choeng Mon und Chaweng. Wer einen Blick ins Innere dieser thailändischen Traumvilla werfen möchte, den erwarten nach dem Jump 18 Bilder des Anwesens.
"This Koh Samui luxury villa boasts a number of outstanding facilities including 5 master bedrooms, each with double beds and air conditioning. All the bedrooms have cable TV with over 70 channels, a DVD player, iPod docks and a state of the art surround sound system. If all this isn't good enough, the Samui luxury villa also has an indoor cinema which seats 12 people. All in all, this luxury villa is the perfect property for a group of friends or a large family that are looking for an amazing holiday".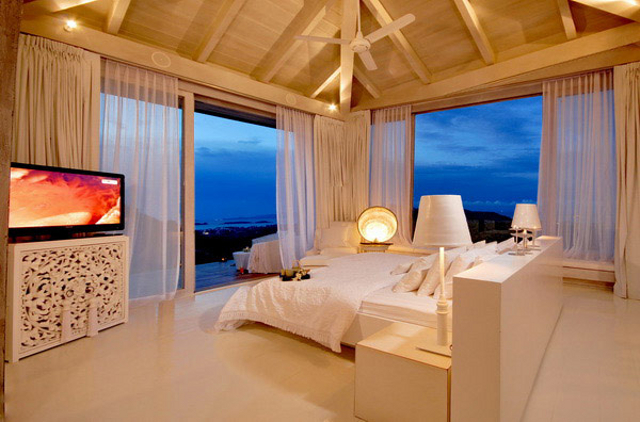 ___
Kommentare
3 Antworten zu "Sophisticated Villa in Thailand with Infinity Pool (18 Pictures)"