"RAP QUOTES" Signs on Original Locations in New York by Jay Shells (15 Pictures + Clip)
Der aus New York kommenden Künstler Jay Shells ist – wie vermutlich sehr viele, hier mitlesende Menschen – großer HipHop-Fan. Aus Liebe zur Mucke und als Zeichen des Respekts vor all den Künstlern aus diesem Genre, besonders vor denen aus New York, hat er das fortlaufende Projekt "Rap Quotes" entwickelt. Er hat inzwischen über 30 höchstoffiziell aussehende Straßenschilder angefertigt, auf denen bekannte Rap-Zitate von ebenfalls bekannten MCs aufgedruckt wurden. Diese Schilder hängt er dort hin, wo sie auch einen Sinn ergeben, beispielsweise dort, wo das jeweilige Storytelling spielt. Mit dabei sind Quotes von Jeru tha Damaja, Mos Def, Nas, Kanye West, CL Smooth, GZA, RA the Rugged Man undundund – ein paar Bilder und einen Clip bekommt Ihr – nach dem Jump:
"After schooling New Yorkers on etiquette via numerous unsanctioned interventions, artist Jay Shells channeled his love of hip hop music and his uncanny sign-making skills towards a brand new project: "Rap Quotes." For this ongoing project, Shells created official-looking street signs quoting famous rap lyrics that shout out specific street corners and locations. He then installed them at those specific street corners and locations."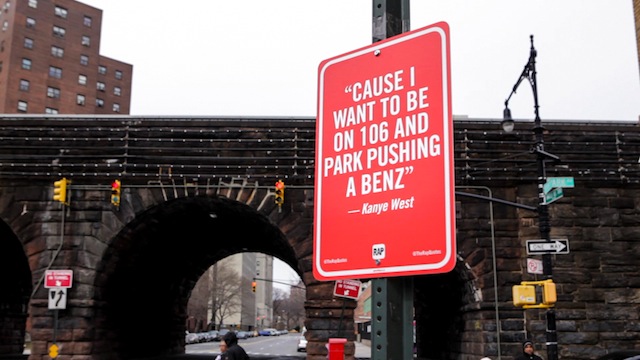 More pictures on page 2 – click below!
Facebook Comments:
Seiten: 1 2
Kommentare
Eine Antwort zu ""RAP QUOTES" Signs on Original Locations in New York by Jay Shells (15 Pictures + Clip)"