"Parisian Floors – One Guy – One City – One Perspective" by Photographer Sebastian Erras
Ein wirklich herrliches Projekt bekommen wir mit "Parisian Floors" heute vom deutschen Fotografen Sebastian Erras kredenzt. Der 29-jährige Fotokünstler mit Vorliebe für Design und Architektur, widmet sich im Rahmen der Arbeit zu Parisian Floors, den unzähligen, unterschiedlichen Bodenbelägen der französischen Metropole. Ein eher unkonventionelle Idee, die hier eine ziemlich hervorragende Umsetzung fand. Nur die wenigsten von uns achten doch wirklich aufmerksam auf den Boden, auf welchen wir uns alltäglich bewegen. Zumindest in Paris lohnt es sich ganz offensichtlich, auch mal einen Blick über das eigene Schuhwerk hinaus zu werfen. Über 120 Bilder umfasst das dope Projekt von Sebastian Erras mittlerweile. Einige Highlights daraus lassen sich direkt hier unten checken, auf Instagram: @parisianfloors gibt's zudem die komplette Serie. One Guy – One City – One Perspektive:
Photographer Sebastian Erras reminds us of the beauty that we can find by taking photos of striking floor designs that he finds throughout Paris. Paris wasn't nicknamed "The City Of Art" because of its vibrant flooring, but it could have been – whether they're painted tiles, painstaking mosaics or other designs, the floors Erras photographs are truly works of art. His feet in each frame, however, help remind us about what we're actually looking at.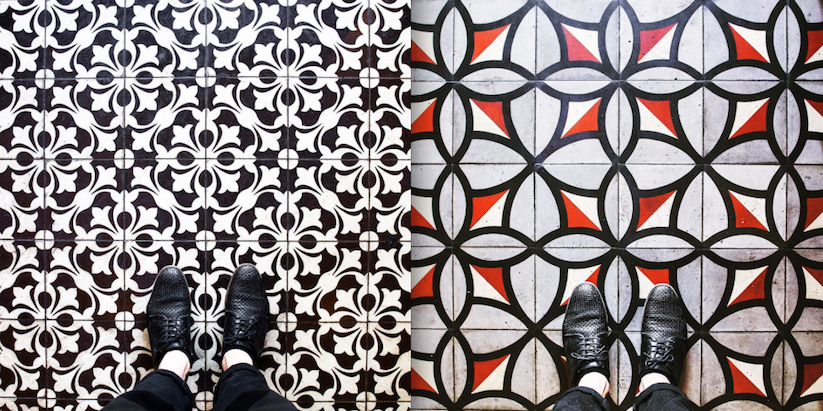 —
[via boredpanda]
Facebook Comments:
Kommentare
Eine Antwort zu ""Parisian Floors – One Guy – One City – One Perspective" by Photographer Sebastian Erras"