OBEY: "Love Is The Drug" New Prints plus "Jail Guitar Doors Pt. 1" (OBEY Awareness Portrait | Clip)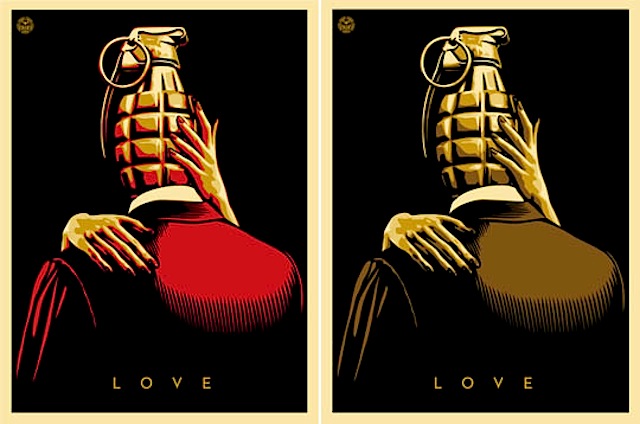 Als Shepard Fairey/OBEY-Fan freut es mich sehr, Euch heute erneut eine volle Ladung des Streetart-Gottes präsentieren zu dürfen: zum Einen haben wir Bilder seiner brandneuen Prints "Love Is The Drug" (eine Initiative, die wir selbstverständlich unterstützen!), die es in rot (Auflage 400 Stück) und in gold (Auflage 200 Stück) in der Größe 45×64 cm ab dem 14. August signiert und nummeriert hier geben wird. Und zum Anderen haben wir noch ein kleines Interview mit dem Meister aus der Reihe "Jail Guitar Doors", einer Non-Profit Charity in den Staaten, die Inhaftierten Musik und das Lernen ebendieser auf Instrumenten näherbringen möchte. Shepard Fairey im Gespräche mit Wayne Kramer (Ex-Häftling, btw) über diese Colabo – OBEY Awareness:
Print "Love Is The Drug": the main "Red" edition is an edition of 400 while "Gold" is an edtion of 200, both are measuring 18 x 24 inches and comes signed and numbered by the artist. Jail Guitar Doors Pt. 1: Jail Guitar Doors USA is a non-profit charity that provides inmates with instruments to create songs of their own, in order to achieve a positive change of attitude and initiate the work necessary to successfully return to life outside of prison walls. In this two part video feature Shepard speaks with Wayne Kramer about their connection to the collaboration. Wayne describes his personal experiences playing with MC5, the series of events that led to his imprisonment, and the opportunity he was given jail to use music as form of rehabilitation.
Love Is The Drug – Red
Love Is The Drug – Gold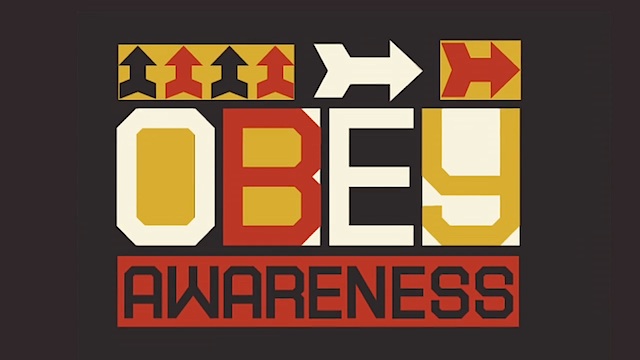 Clip:
[vimeo]http://vimeo.com/46769460[/vimeo]
Kommentare
2 Antworten zu "OBEY: "Love Is The Drug" New Prints plus "Jail Guitar Doors Pt. 1" (OBEY Awareness Portrait | Clip)"