New Yorkers Web Series – Gary Arnold // Colin Huggins (2 Clips)
Es geht weiter mit der "New Yorkers"-Webseries, hier gleich zwei neue, wie immer sehr inspirierende Folgen. Zunächst haben wir Gary Arnold, den sogenannten "Mad Scientist of Sound", ein ewig schwarze T-Shirts tragender Sounddesign-Vollnerd – im positivsten Sinne. Im Anschluss seht ihr Colin Huggins, einen echten Straßen-Pianisten. Seht ihn u.a. in meinem Lieblings-Park des Big Apple, im Washington Square Park (weil: neben dem Central Park der einzige, den ich persönlich kenne! :)). In beiden Clips gibt's wieder jeder Menge authentic NY-Lifestyle – don't sleep: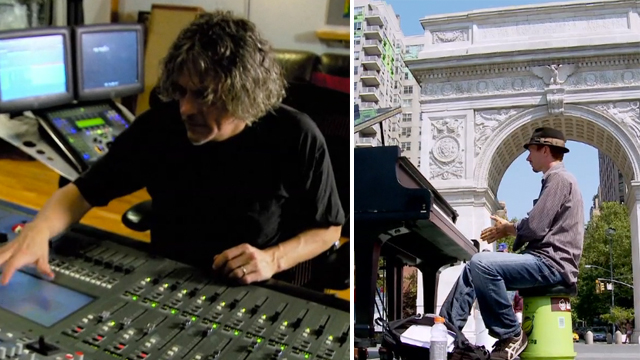 Gary Arnold – Sound Designer:
[vimeo]https://vimeo.com/58113358[/vimeo]
"Gary Arnold is the mad scientist of sound. In his trademark black t-shirt, his unkempt hair wildly sticking out in every direction, Arnold keeps nocturnal hours at his mixing board, creating mind-blowing audio mixes for movies, television, commercials and more. After 23 years of toiling under the constraints of various post-production houses, Arnold broke away in 2006 to become the owner and sole proprietor of Gary's Chop Shop, a high-end audio facility in lower Manhattan. While his manner and methods may seem unconventional, the two Emmy awards adorning his window sill are proof of Arnold's genius."
Colin Huggins – Street Pianist:
[vimeo]https://vimeo.com/57709587[/vimeo]
We shot with Colin Huggins on a scorching August day last summer. Colin is a truly amazing musician, much better than you would expect from a street performer. On nice days, he plays his piano free of charge in New York's Washington Square Park for all to enjoy. We wanted to really get a good feel for Colin's daily routine so we met him where he starts his working days- a Manhattan Mini Storage in downtown NYC. Colin has a system set up that he has honed over years where he wheels his piano down to the street level and then pushes this gigantic thing up 6th avenue, across west third street and into the park. Once he arrives in the park, out of breath, he must re-assemble the piano that has been taken apart for transport. Its quite a process and just one of the amazing things that everyday New Yorkers do. NYorkers.com was lucky to get the chance to ride along.
Kommentare