Michele Manzo dropt neues Projekt "All Rise" (ft. Georgia Anne Muldrow, Dudley Perkins, Ray Clev, Ryan Gant)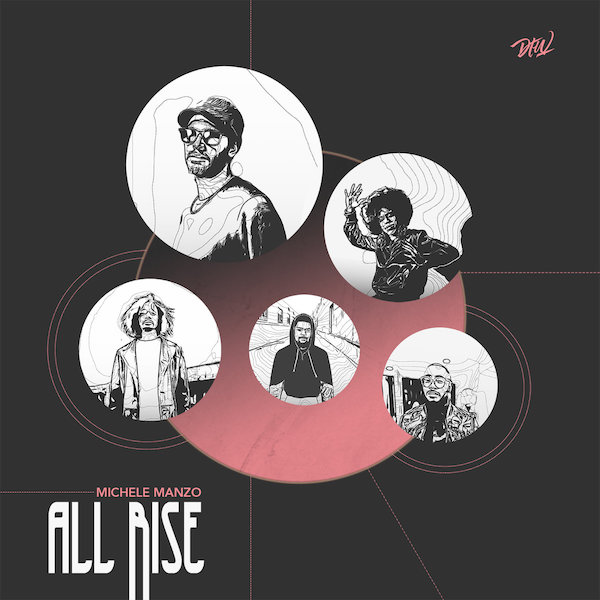 Hier haben wir heute mal wieder einen absoluten Pro-Tipp für Euren Arsch: Michele Manzo und sein neues Projekt "All Rise", Darker Than Wax sind im Gebäude! Wenn Jazz und Funk auf HipHop treffen und das so klingt wie hier, dann geht mein Herz halt einfach auf. Michele Manzo kommt aus Italien, hat weitere Wurzeln im Dub und in brasilianischer Mucke, spielt seine Instrumente selbst ein und produziert seinen Crample auch selbst – das ist alles schon sehr wuchtig. Insgesamt gibt es 12 Tracks plus 5 Bonus-Tracks, Features kommen von Georgia Ann Muldrow, Dudley Perkins, Ray Clev und Ryan Gant und statt hier zu lesen solltet Ihr schon längst auf Play gedrückt haben. Dope!
'ALL RISE' is a genuine reflection of Manzo's art form, which sees so many different styles and influences coming together in the most natural, organic way. Everything was recorded live using bass, synth bass, guitar, old analogue keyboards, blended together with modern synths, dub delays and ambient fx – giving off the familiar warmth of boom bap and progressive stimulation of neo-soul. The pervasive harmonies and clever use of chords give the album a real musical depth, but grounded with an effortless, natural approach to creation.
Michele Manzo – "All Rise" // Bandcamp Stream:
Michele Manzo – "All Rise" // Bandcamp Stream:
Kommentare