#FACTSONLY Interview with JAY Z (Parts 1 + 2 – Hosted by Elliot Wilson)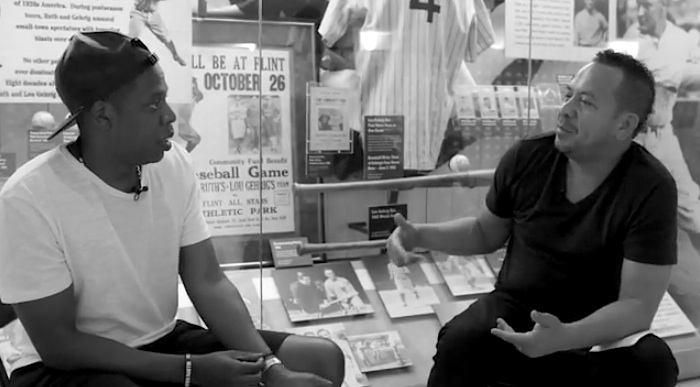 Ein weiteres Interview mit dem Jiggaman, der sich ab sofort groß und ohne Bindestrich schreibt. "The Truth" mit Elliot Wilson (Rap Radar) ist in die Bronx gefahren, um sich mit JAY Z eine Stunde lang hinuzusetzen und über unterschiedlichste Themen zu sprechen. Natürlich geht es um "Magna Carta", um neue Wege in der Musikindustrie, er erklärt seine Philosophie in Sachen Collaborations, spricht über seine Connection zu New York und so ganz allgemein über die Zukunft des Rap. Das Interview ist auf dem Life+Times-Channel erschienen, der ja JAY Z ("I am the real deal") gehört – ich dachte, ich erwähne das kurz. Gute Unterhaltung:
"The Truth" heads to the Bronx for an interview with JAY Z. Sitting in the New York Yankees baseball museum at Yankee Stadium, JAY Z speaks on "Magna Carta… Holy Grail"; new rules in the music business; his philosophy on collaborations; the connection he has to New York; and the future of rap.


Clips – Part 1:
[youtube]http://www.youtube.com/watch?v=Wc900jur8ZI[/youtube]
Part 2:
[youtube]http://www.youtube.com/watch?v=Re8S3xZbRNI[/youtube]
Kommentare