Evolution Of Mom Dancing feat. Jimmy Fallon & Michelle Obama (Clip)
The Evolution of Dancing geht in die nächste Runde: Mom Dancing! Keine geringere als Michelle Obama höchstpersönlich hat hier gemeinsam mit Late-Night Comedian und Moderator Jimmy Fallon die Hüfte geschwungen. Kaum auszudenken, wie sich unsere First Lady in diesem Rahmen präsentieren würde. Zum Glück hat Mrs Obamsky eine derbe Portion Swag abbekommen und zeigt uns aus ihrem reichhaltigen Repertoire einige freshe Moves, die ihr euch merken solltet. Da kann selbst Mutter Fallon nicht mithalten:
In honor of the First Lady's "Let's Move" campaign, and to encourage parents everywhere to get up and get moving with their kids, Jimmy Fallon and Michelle Obama present the "Evolution of Mom Dancing.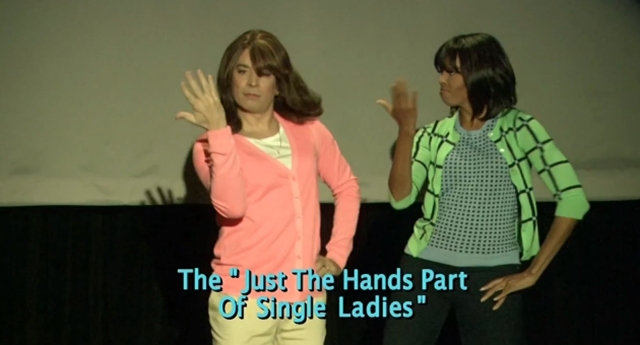 [youtube]http://www.youtube.com/watch?v=Hq-URl9F17Y[/youtube]
___
[via Jimmy Fallon]
Kommentare
Eine Antwort zu "Evolution Of Mom Dancing feat. Jimmy Fallon & Michelle Obama (Clip)"