Bohemian Lifestyle Penthouse in Manhattan // New York City (15 Pictures)
Eine weitere, unglaubliche Crib im Big Apple: das 465qm 5-Zimmer Duplex Penthouse von den Beyer Blinder Belle-Architekten, mitten in Manhatten. Die Aussicht ist auf den oberen Bildern zu erahnen, auf Bildern #12+13 noch einmal to fullest zu bewundern. Schlicht und sehr geschmackvoll eingerichtet liegt dieses Apartment direkt in der Nähe und natürlich mit Blick auf den Central Park, im Park Laurel-Hochhaus (New York-Fans werden es kennen). 360°-Aussicht, hohe Decken, große Fenster für eine höchstmögliche Lichtdurchflutung – wer gerade überlegt, überzusiedeln und für wen Dough nicht das Problem ist: diese Hütte gibt es so wie Ihr sie hier auf den Bildern sieht für 26.5 Mio. $ – chapeauwski:
"Take 5,000 square foot and give them to the architects Beyer Blinder Belle and Costas Kondylis! The output: an exclusive five bedroom duplex penthouse located in the city of fascination, New York. This city is so vivid because it vibrates in the very own heart of it. A crowded-bohemian lifestyle, filled with luxury and exquisite tastes, this is what New York has to offer! The very own shelter of many architectural wonders, Manhattan is probably the most coquette and chic place to be. Nearby Central Park, in a residential skyscraper called Park Laurel, a stunning apartment with 360 degrees overview upon the architectural horizon of Manhattan is out for sale!"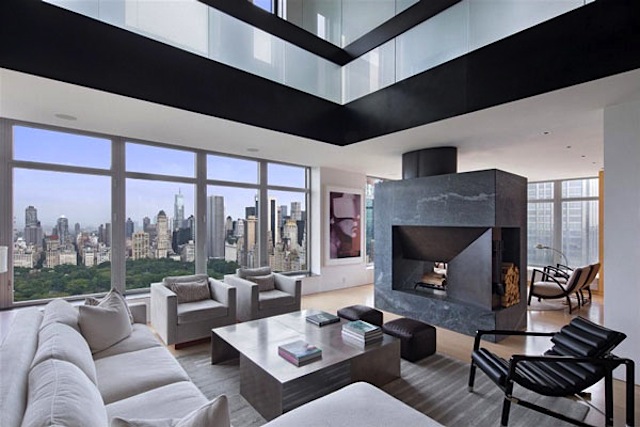 More pictures on page 2 – click below!
Kommentare
3 Antworten zu "Bohemian Lifestyle Penthouse in Manhattan // New York City (15 Pictures)"