Artist Creates Nelson Mandela Portrait from 27.000 Punches (Clip)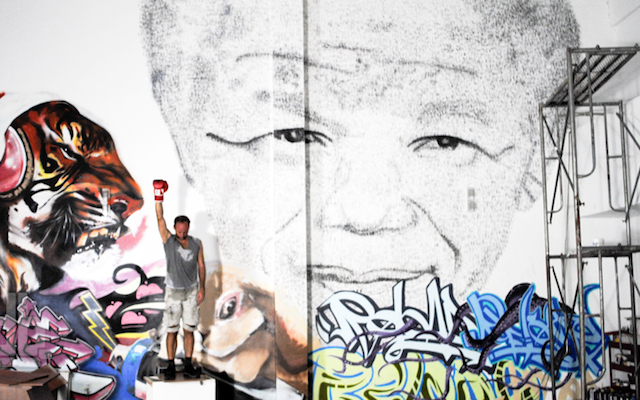 Phil Akashi, boxender Künstler aus Shanghai, zollt dem derzeit schwer kranken Nelson Mandela mit einem Portrait aus 27.000 Boxpunches Tribut. Das Gesamtkunstwerk besteht aus den chinesischen Buchstaben für das Wort "Freiheit". Als Material hat Akashi Zinnober-Paste verwendet, rote Zinnoberfarbe gilt als die Farbe des Lebens und Ewigkeit. Mit der schwarzen Farbe möchte der Künstler Mandelas Kampf gegen die Apartheid ehren.
phil akashi pays tribute to international hero nelson mandela, by painting a monumental portrait made from 27.000 boxing punches with the chinese characters ??/'freedom'. the shanghai-based artist chose to use cinnabar paste for its significance in taoist culture; red cinnabar was regarded as the color of life and eternity. he firmly decided to use black cinnabar paste to honor mandela's struggle against the apartheid. this symbolic and powerful painting resides in the shanghai graffiti park, and is surrounded by a mix of street art by local creatives.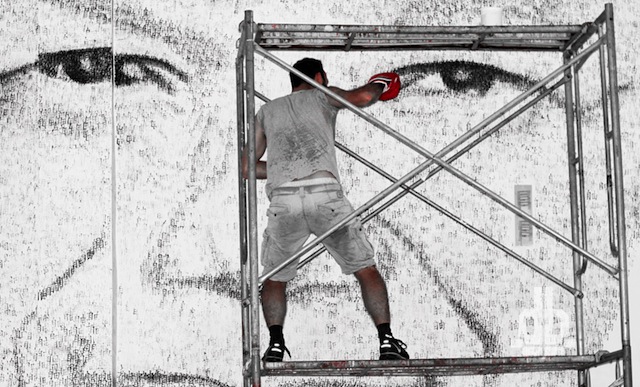 Clip:
[youtube]http://www.youtube.com/watch?v=JNKRdLn6Esw[/youtube]
___
[via]
Kommentare
Eine Antwort zu "Artist Creates Nelson Mandela Portrait from 27.000 Punches (Clip)"