A Photo Essay of West African Barbershops (12 Pictures)
Schöner Beitrag vom 34jährigen, nigerianische Fotografen Mr. Esiebo im "Lens"-Blog der New York Times über die Kultur westafrikanischer Friseurläden. Es geht um die Beziehung zwischen dem Friseur und dem Kunden, die sich als Fremde begegnen, dann aber recht schnell ein relativ intimes Verhältnis zueinander haben – immerhin hält der Barbier seinem Kunden die Klinge direkt an Hals und Ohren. Ob es nun die heruntergekommen Klitschen oder die eher modernen Salons sind, sie alle teilen ähnliche Geschichten, von populärer Kundschaft aus den Bereichen Kultur, Fußball oder Musik über Kunden mit recht spezieller, religiöser Überzeugung. Hier haben wir ein paar Bilder aus unterschiedlichen Salons, für die gesamte Story folgt den Links im Zitat:
"It takes a certain amount of trust to allow a man to put a straight razor to your neck or run scissors around your head. That's why, while barbers may start off as strangers, they don't remain strangers for long. Often, they become long-term confidants with whom men share intimate details of their lives. The conversations may begin with sports, cars or politics, but they often end with personal revelations that customers would share with few others.

"The barbershop is an intimate space where people come to discuss what they cannot speak about in their homes or in public, including politics and even their lovers," said Andrew Esiebo, who has photographed scores of West African barbershops. "It's one of the few spaces where people from different walks of life, from different classes, mix."

Mr. Esiebo, 34, a Nigerian photographer, is fascinated by the nuances of this relationship and how men present themselves to the world. He has traveled through seven West African countries to explore how barbers and their shops function, and to document the often kinetic aesthetics of the salons. Whether they consisted of a single chair on a sidewalk or a fancy space in a shopping center, the barbershops he found were more similar than different." – more at LENS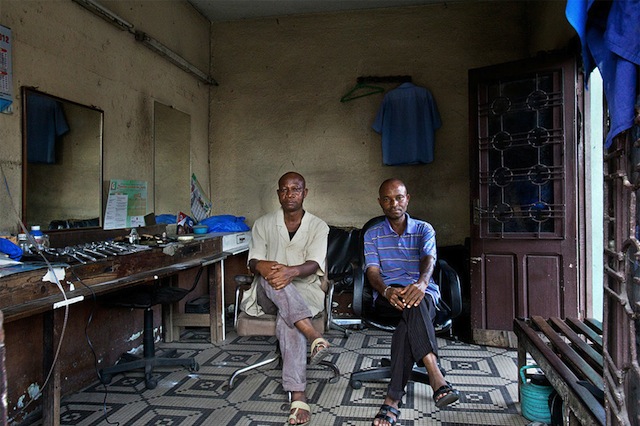 More pictures on page 2 – click below!
Kommentare