Russell Brand & Jay Shetty: "Seeds, Weeds & Intention"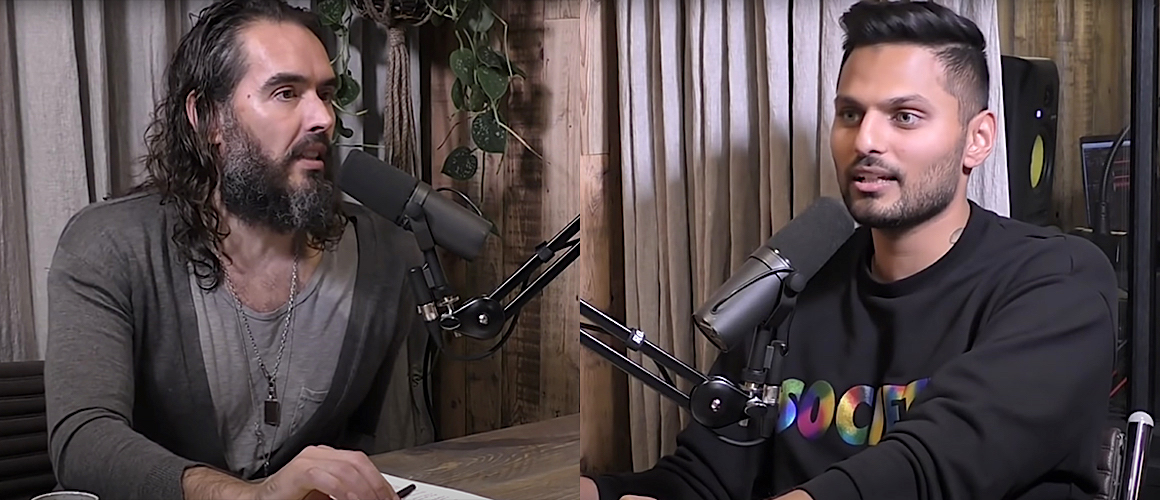 Inspirational Talk of the day, Ladies and Gentlemen – Russel Brand und sein "Under The Skin"-Format, zu Gast ist Jay Shetty. Eine Stunde, in der es nicht für eine Sekunde langweilig wird. Ich weiß gar nicht, welche Passage ich hier besonders hervorheben möchte, die krasseste Erkenntnis war jedenfalls diese eine Studie, von der Jay Shetty gesprochen hat. Man hat eine Gruppe von freiwilligen Teilnehmern gefragt, ob sie sich gegen Geld einen Stromschlag verpassen lassen würden – alle haben abgelehnt. Dann hat man sie vor die Wahl gestellt: entweder, sie sind für 15 Minuten alleine mit ihren Gedanken in einem Raum oder sie bekommen einen Stromschlag. 21% der Frauen und 63% der Männer (!!!) haben sich für einen Stromschlag entschieden. Sie hatten Angst, sich ihren eigenen Gedanken zu stellen. Sie trauen sich nicht, zu meditieren, dabei ist das doch die Erlösung! Ein weiteres Zeichen, in welch kranken Zeiten wir leben. Wir bekommen die Lösung kostenfrei angeboten und entscheiden uns dennoch für einen schnellen Schmerz, damit wir die Lösung gar nicht erst erfahren. Schaut Euch dieses Interview an, es steckt voller Inspirationen für die, die sich drauf einlassen (können).
Seeds, Weeds & Intention" // Russell Brand & Jay Shetty:
"The Cookie Thief" by Valerie Cox
A woman was waiting at an airport one night, with several long hours before her flight.
She hunted for a book in the airport shops, bought a bag of cookies and found a place to drop.
She was engrossed in her book but happened to see, that the man sitting beside her, as bold as could be
grabbed a cookie or two from the bag in between, which she tried to ignore to avoid a scene.
So she munched the cookies and watched the clock, as the gutsy cookie thief diminished her stock.
She was getting more irritated as the minutes ticked by, thinking, "If I wasn't so nice, I would blacken his eye."
With each cookie she took, he took one too, when only one was left, she wondered what he would do.
With a smile on his face, and a nervous laugh, he took the last cookie and broke it in half.
He offered her half, as he ate the other, she snatched it from him and thought… oooh, brother.
This guy has some nerve and he's also rude, why he didn't even show any gratitude!
She had never known when she had been so galled, and sighed with relief when her flight was called.
She gathered her belongings and headed to the gate, refusing to look back at the thieving ingrate.
She boarded the plane, and sank in her seat, then she sought her book, which was almost complete.
As she reached in her baggage, she gasped with surprise, there was her bag of cookies, in front of her eyes.
If mine are here, she moaned in despair, the others were his, and he tried to share.
Too late to apologize, she realized with grief, that she was the rude one, the ingrate, the thief.
Kommentare