"Transit" – New Mural by Street Artist Johannes Mundinger at Train Station in Münster // Germany
Den aus Offenburg stammenden und mittlerweile in Berlin lebendem Street Artist Johannes Mundinger haben wir an dieser Stelle erst kürzlich mit seinen sehenswerten "Story in Brown"-Mural gefeatured. Das abstrakte Piece wurde bekanntlich in der kleinen, französischen Hafenstadt Boulogne-sur-Mer gefertigt. Das neuste Wandbild dieses Künstlers entstand soeben in Nordrhein-Westfalen. Das Mural "Transit" ist Teil der Ausstellung "HBF 2016", welche die Werke von insgesamt zehn Artists, im öffentichen Raum, rund um den Bahnhof Münster zeigt. Am Bahnhof, einem Ort, gefüllt vom Leben auf der Durchreise, vom Transit, treffen unzählige Geschichten aufeinander. Ob 1 Klasse Reisende, Obdachlose, Familien, ganz deutlich zeigt sich hier die Vielfalt der Gesellschaft, verschmilzt und grenzt sich ab. Neben dem Ersatzeingang des Hauptbahnhofs auf einem kleinen Bahnhäuschen entstand Mundinger's neuster Streich – eine Wandmalerei, die genau diese Vielfalt zum Ausdruck bringt:
Johannes Mundinger just wrapped up a brand new piece in Münster, Germany at a train station and this time he didn't have to watch out for the cops. For the artist, the train station is a place filled of life, a place where numerous stories meet. First class travelers, homeless people, busy families – it´s the place where the whole diversity of society gets visible, melts and differentiates. His mural which is entitled "Transit" is playing with its surrounding and focusing on this diversity. Transit was painted as part of the the "HBF 2016" group exhibition showing the work of 10 artists in public space around the train station of Münster, Germany.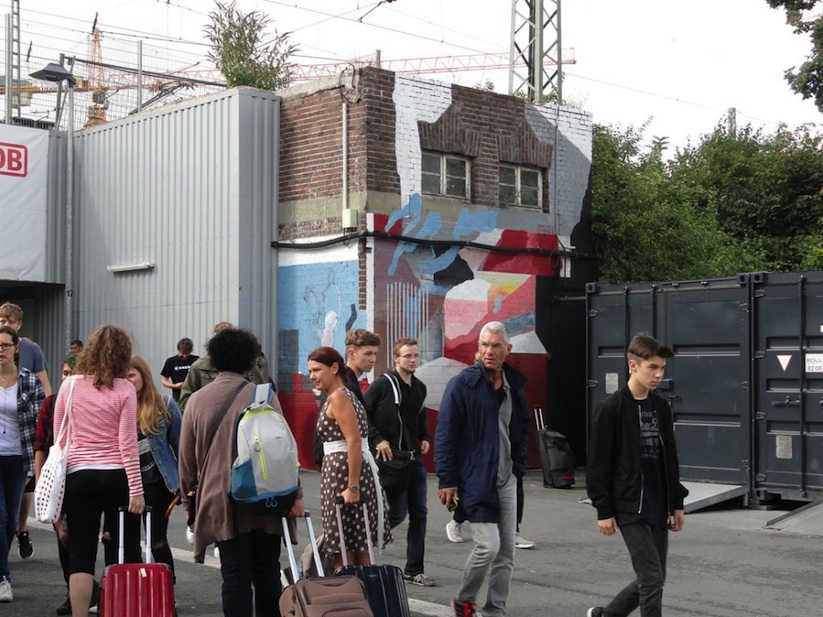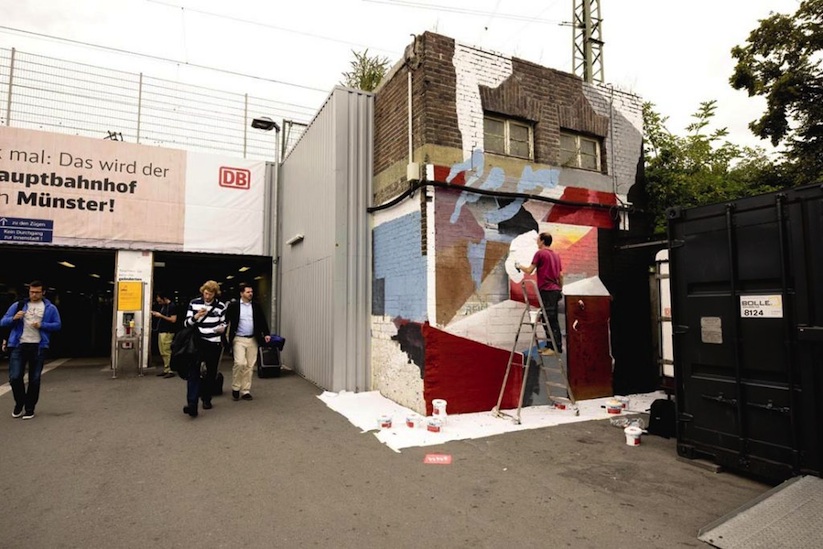 Work in progress images by Katharina Tenberge
Facebook Comments:
Kommentare