The North Face: Alex Honnold – El Sendero Luminoso (Clip)
Ich bin mal auf Klassenfahrt in Paris nach einer durchzechten Nacht den Eiffelturm fast bis zur Spitze hinauf gefahren, ohne mir in meinem vollen Kopf vorher darüber bewusst zu werden, dass man danach den ganzen Turm auch wieder per Treppe hinunter muss. Man muss dazu sagen, das ich unter extremer Höhenangst leide und ich noch heute bei der Erinnerung daran weiche Knie bekomme. Anyway, geht mir bei dieser tollen Minidoku über Alex Honnold nicht anders, denn Alex hatte einfach genug vom Klettern mit Absicherung, also Seilen, und ist innerhalb von 3 Stunden den 762 Meter hohen El Sendero Luminoso (The Shining Path) in El Potrero Chico, Mexiko, komplett ohne Absicherung hinauf geklettert. Hierbei handelt es sich wohl um den schwierigsten Aufstieg, der jemals von einem Freeclimber absolviert wurde.
On January 15, 2014, Alex Honnold free-soloed El Sendero Luminoso (The Shining Path) in El Portrero Chico, Mexico in a little over 3 hours. The climb rises 2,500 feet to the summit of El Toro. It could be the most difficult rope-less climb in history.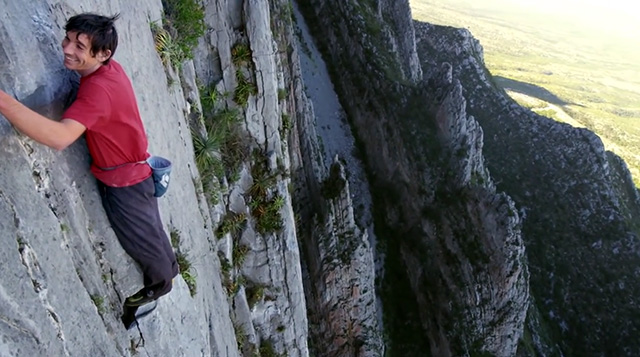 Clip:
[youtube]http://www.youtube.com/watch?v=Phl82D57P58[/youtube]
___
[viaDesignTaxi]
Kommentare
Eine Antwort zu "The North Face: Alex Honnold – El Sendero Luminoso (Clip)"