Skywalking Russians – Heart-Racing Photography (13 Pictures + Clip)
Wieder sind wir im Internet auf Bilder gestoßen, bei denen der eine oder andere leicht schwitzende Hände bekommen wird. Damals zeigten wir Euch dieses Bildmaterial. Heute sind es die zwei tollkühnen Russen Alexander Remnev und Vitaly Raskalov. Wie die anderen ihrer Zunft, gerade mal 19 Jahre alt, die sich in schwindelerregenden Höhen begeben und dieses mit ihrer Kamera aufgenommen haben. Bei ihrem Spaß sind sie jedoch mit keinerlei Sicherheitsequipment am Körper auf den Brücken und Türmen unterwegs. Wir sehen Russland hier aus der Vogelperspektive, ich weiß nicht, wie man hierbei noch zwinkernd in die Kamera schauen kann. Im Clip seht ihr es dann genauer – it scares the shiat out of me:
Russian thrill-seeking photographers Vitaly Raskalov and Alexander Remnov reach incredible altitudes to capture some astounding visuals. As if snapping shots from such great heights weren't enough, these two photographers actually scale these gargantuan towers and massive buildings without any proper safety equipment. Once at the top of their destined conquest, they photograph their vertigo-inducing, albeit breathtaking, point of view. They even take the dangerous liberty of posing in recklessly daring positions, as though they don't have a care in the world.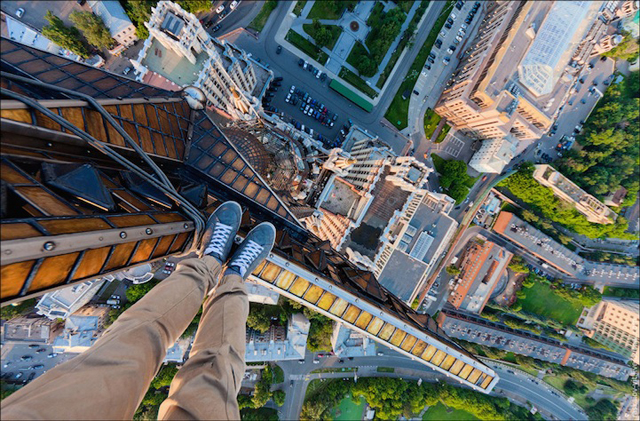 ( click below to see page 2)
Facebook Comments:
Seiten: 1 2
Kommentare
4 Antworten zu "Skywalking Russians – Heart-Racing Photography (13 Pictures + Clip)"