"Plastic Classics" – Colorful Art Created from Everyday Objects by Jane Perkins (13 Pictures)
Ohne jedweden Einsatz von Farbe schafft es die britische Künstlerin Jane Perkins, klassische Gemälde oder Portraits bekannter Persönlichkeiten in Ihren Artworks nachzuempfinden. Zum Einsatz kommen bei ihr lediglich handelsübliche Gegenstände, welche sich in ihrem Haushalt finden lassen, wie beispielsweise Knöpfe, Schmuck, Spielzeuge, Kämme, Federn, Gardinenhaken, Ketchup-Flaschen und vieles andere mehr. Bereits seit 2008 erstellt Perkins aus genau diesen Dingen meisterhaft detaillierte Collagen, die unter anderem DaVinci's Mona Lisa oder die Konterfeis von Albert Einstein und Nelson Mandela darstellen. Ihre beindruckenden Arbeiten wurden bereits weltweit ausgestellt und fanden Käufer in London, New York und Singapur. Einige Beispiele der "Plastic Classics"-Serie von Jane Perkins haben wir direkt hier unten für Euch. Enjoy:
In her "Plastic Classics" series, British artist Jane Perkins uses almost anything she can find – buttons, plastic toys, LEGO pieces, etc. – to re-create recognizable iconic paintings like DaVinci's Mona Lisa and portraits of stars like Albert Einstein and Nelson Mandela.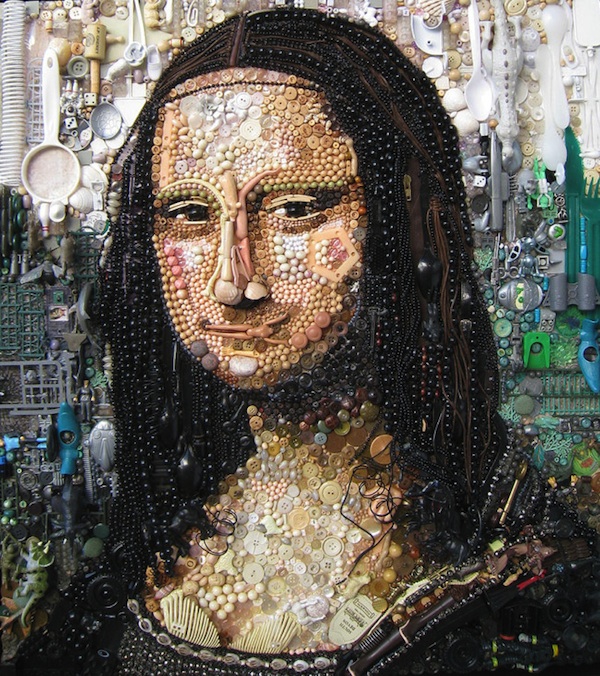 ___
[via Lost at E Minor]
Kommentare