Martin Scorsese Tribute Art Show in New York City (14 Pictures)
Martin Scorsese hat den Ruf, einer der talentiertesten Filmemacher aus den USA zu sein, der Typ macht jetzt seit über 40 Jahren Kino und er hat wohl mehr Liebe für New York aus Big & Jig zusammen. Aus diesem Grund hat die Spoke Art Gallery in San Francisco jetzt die verschiedensten Artworks aus der "Martin Scorsese Tribute Art Show" nach New York gebracht, wo sie vom 19.04. bis zum 21.04. in der Bold Hype Gallery in Chelsea ausgestellt werden. Wer also in der Nähe ist, sollte sich das unbedingt geben, alle anderen können sich ein paar der Artworks (Gemälde, Skulpturen und Prints) auch hier ansehen. Most dope:
"From Taxi Driver to Gangs of New York, the films of Martin Scorsese have immortalized New York. That's why the call the Queens-born director "the unofficial biographer of New York City." And so, San Francisco's Spoke Art Gallery has opted to curate their Martin Scorsese art show tribute here in the Big Apple. This weekend, stop by the Bold Hype Gallery to enjoy an assemblage of Scorsese-inspired works from over 75 internationally acclaimed artists. Free. "Scorsese: An Art Show Tribute," multiple artists, April 19- April 21, Bold Hype Gallery, Chelsea"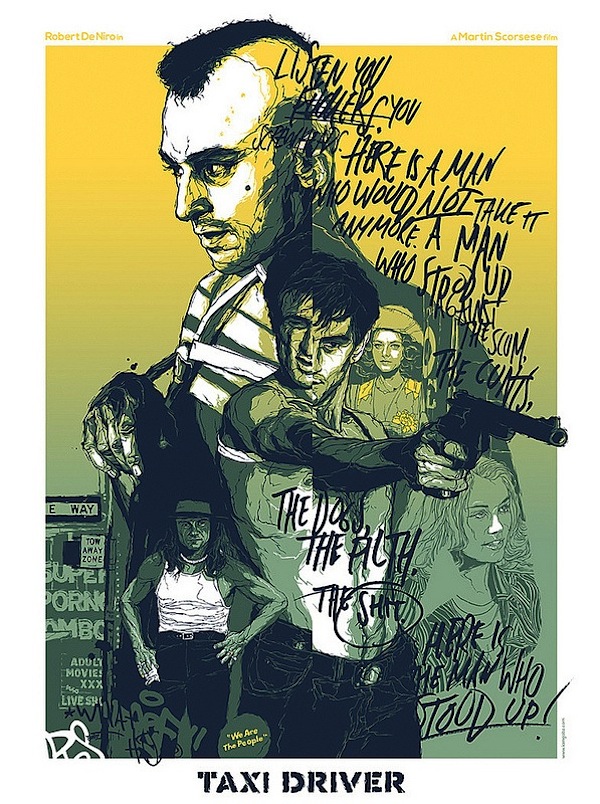 More pictures on page 2 – click below!
Kommentare
Eine Antwort zu "Martin Scorsese Tribute Art Show in New York City (14 Pictures)"