Illustration: David Fullarton's Apologies (12 Pictures)
Die wunderbaren Illustration von David Fullarton sind eigentlich genau das Richtige für mich. Werde mir einfach alle ausdrucken und bei Bedarf verteilen. Kaum eine Entschuldigung wäre charmanter. Witzig und dabei schmerzhaft bis auf die Knochen freimütig. Wenn man sich komplett offenlegt, kann man eigentlich auch nicht mehr angegriffen werden. Am Besten gefällt mir: "I'm sorry that I left a photocopy of my genitalia on your desk. I mistakenly thought you might be impressed." Kann schon mal im Büroalltag passieren… Der in San Francisco lebende Schotte David Fullarton ist Künstler/Illustrator und hat mit seiner schonunglos offenen Serie "Aplogies" etwas geschafft, das viele auch im Erwachsenenalter nicht auf die Reihe bekommen: ehrlich sein.
David Fullarton is a Scottish born, San Francisco based visual artist and illustrator. Because he is a man with very low expectations he is seldom disappointed and therefore lives a life filled with boundless joy. He has spent most of his somewhat checkered artistic career attempting to create a piece of artwork that doesn't have words written on it. So far he has failed dismally.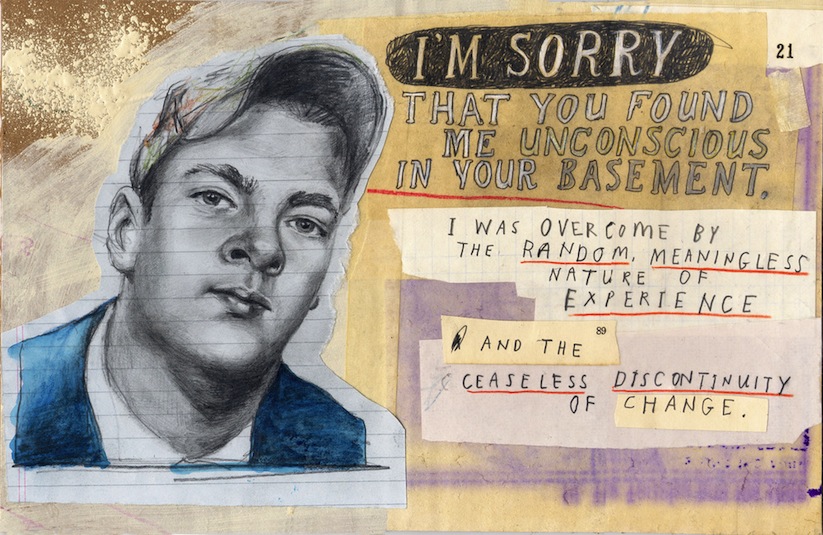 ___
[via JUXTAPOZ]
Kommentare