George Clinton & The P-Funk All Stars zu Gast beim NPR Music Tiny Desk Concert (Video)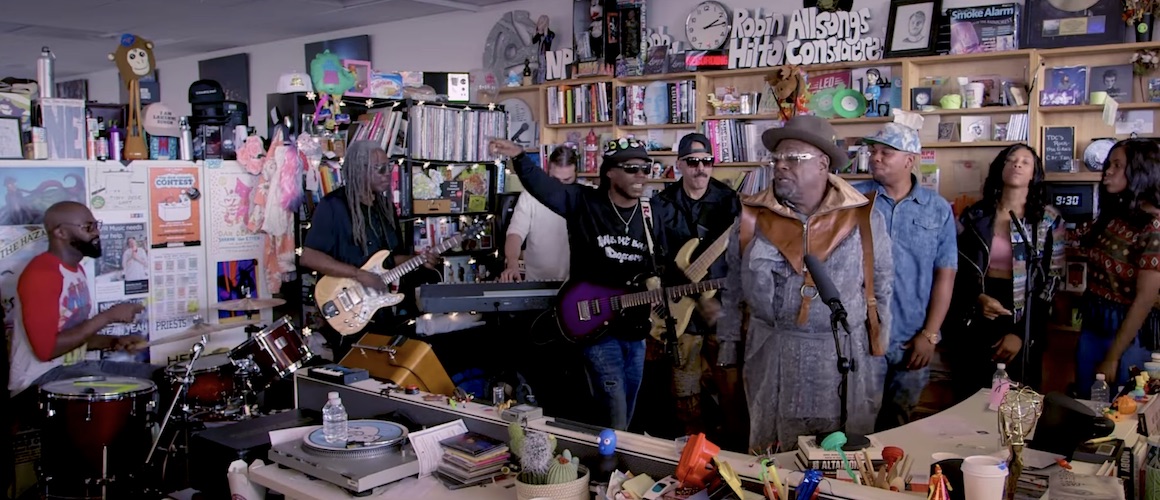 P-Funk gerade mal wieder schwer im Haus: erst gestern gab es Bootsy Collins im neuen Video von Kali Uchis zu sehen und nur einen Tag später gibt es George Clinton zusammen mit den P-Funk Allstars zu Gast beim NPR Tiny Desk Concert (hier weitere Folgen). Die Herrschaften präsentieren ein knackiges Medley aus unterschiedlichsten Hits, es gibt "Standing On The Verge Of Getting It On", "One Nation Under A Groove" (dope!) und "Give up the Funk (Tear the Roof off the Sucker)" zu hören. Unser Mucke-Video des Tages:
"Clinton has brought his own bloodline into the most recent lineup of P-Funk: His grandchildren are the newest backup singers, while another grandchild serves as tour manager. Though this was a much smaller outfit than their traditional stage shows — no horn section, no dancers, no Sir Nose D'Voidoffunk — the extended family was also in full effect. Garrett Shider on rhythm guitar, filling in for his late father, Garry Shider, aka Starchild. Even original trumpeter Bennie Cowan, who still tours with the group but didn't make it to the Tiny Desk, typically plays alongside his son Benzel on drums. Blackbyrd McKnight and Lige Curry cement the foundation as elder statesmen who've been rocking with Clinton since 1978.
George Clinton & The P-Funk All Stars @ NPR Music Tiny Desk Concert:
Kommentare