Celebrity Candy Portraits by Cristiam Ramos x Candy Art using Thousands of Sweets (Pictures & Clips)
Der 32 jährige Künstler Christiam Ramos aus Mexico benutzt alle erdenklichen Süßigkeiten, um namhafte Celebrities wie Lady Gaga, Beyoncé oder auch den King of Pop zu portraitieren. Bei seiner größten Candy Art, nämlich einem lebensgroßen Motorrad, hat der Künstler sogar weit über 20.000 Süßigkeiten zusammengesetzt, unter anderem M&Ms, Gummibären, Kaugummi, After Eight und viele andere Leckereien. Seine Kunstwerke kann man sich in Museen auf der ganzen Welt anschauen und je nach Anzahl der Materialien sowie Größe seiner Zuckerwerke muss man bis zu $18.000 für ein Portrait auf den Tisch legen – real eye candy:
The 32-year-old Mexican artist uses Gummy Bears, liquorice, M&M's, bubble gum and after dinner mints to craft colorful portraits of various celebrities. Each of his tasty artworks contains over 5,000 individual sweets, and his largest creation so far, a life-size candy motorcycle is made up of over 20,000 sweets. Ramos says he got the idea to use sweets as a medium for his art four years ago, while he was in a park. He saw a dad give his son a piece of candy to sooth his pain, and after seeing the boy smile, he realized sweets make human beings happy. Cristiam Ramos' celebrity portraits sell for up to $18,000, depending on the size of the picture and amount of sweets used. Celebrities immortalized in candy by Ramos also include Justin Bieber, Michael Jackson and Elvis Presley.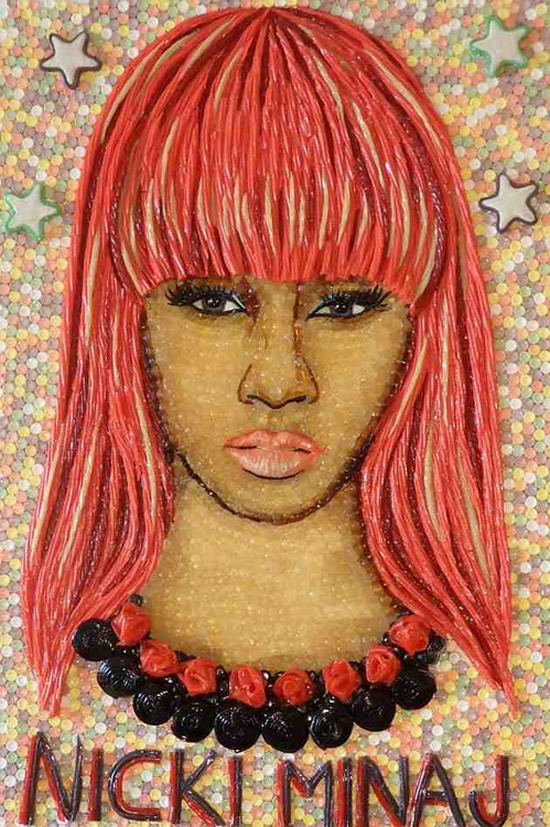 Clips:
[youtube]http://www.youtube.com/watch?v=JpvQl4WWfOQ[/youtube]
[youtube]http://www.youtube.com/watch?v=766GL5LMmBw[/youtube]
___
[via]
Kommentare
2 Antworten zu "Celebrity Candy Portraits by Cristiam Ramos x Candy Art using Thousands of Sweets (Pictures & Clips)"