Breakfast Cultures from Around the World (16 Pictures)

(England – Beans, sausages, bacon, eggs, mushrooms, hash browns, toast, and a cup of tea. Image via LunaMoth116)
Guten Morgen allerseits, nach dem gestrigen Feiertag schon gefrühstückt? Falls nicht – hier gibt's ein paar Inspirationen, vielleicht wollt Ihr ja mal etwas Anderes ausprobieren. Nur 2-3 kleine Anmerkungen von mir hierzu: ich verstehe die Engländer ohnehin nicht. Was ihr Frühstück betrifft, habe ich aber überhaupt kein Verständnis, guckt Euch das hier oben einmal an. Wer so in den Tag startet bekommt natürlich Segelohren, pigmentierte Haut und (rote) Rückenbehaarung. Das deutsche Beispiel auf der #3 ist m.E. auch etwas überspitzt dargestellt. Ich halte es da eher mit Toast (ja, Wurst und Käse sind dabei. Wichtig aber auch: Nutella), es fehlt der Obstsalat (oder wenigstens ein Glas Orangensaft) und der Joghurt. Ansonsten könnte ich auch ganz gut mit dem schwedischen Frühstück leben und was die Thailänder da essen (Bild 12), ist wirklich fantastisch und super lecker. Aber nicht zum Frühstück. Wie dem auch sei – eine schöne Übersicht der Frühstücks-Kulturen auf der ganzen welt – bon apetit:
"Breakfast is the most important meal of the day, though it may look and taste different depending on where you're from. While in America it is not out of the ordinary to have a stack of flapjacks and bacon as a morning meal, it is wildly different from Thailand's customary fish, pork, and rice dish."

(Phillipines – Local fruits like mangos, rice, and little sausages (known as longganisa). When fried with salt and garlic cloves it's known as sinangag. The sinangag is then combined with eggs, meats and beans. Image via supafly)



(Germany – Wursts, local cheeses, and freshly baked bread, all washed back with a strong coffee. Image via withassociates)

(France – Croissants, plain or with crushed almonds, butter, chocolate or cream. Image via Pierre-Olivier Carles)

(Sweden – Swedish pancake known as Pannkakor, which is similar to a crepe, served with sweet fruity filling. Image via terren in Virginia)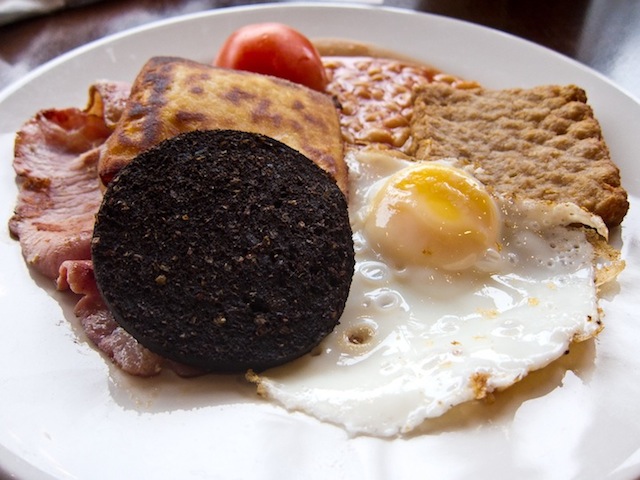 (Scotland – Slab of haggis served alongside a fat-fried egg and square sausages known as Lorne. Image via David Blaikie)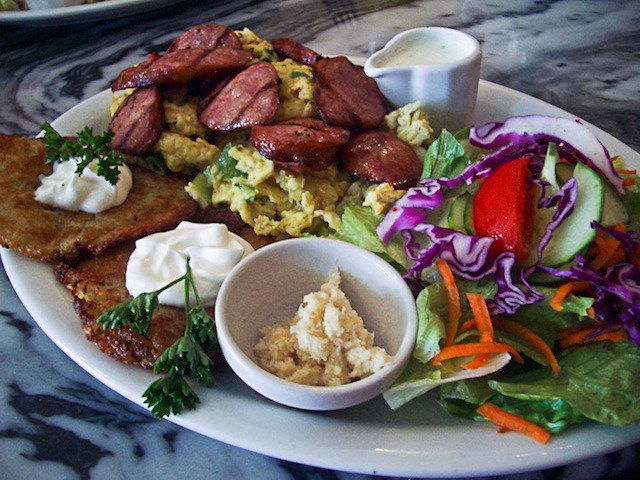 (Poland – Jajecznica: a mound of those same scrambled eggs, covered with slices of Amadeus's custom-made kielbasa and accompanied by two potato pancakes. Image via Kitchen Chick)

(Turkey – A few varieties of cheese, butter, olives, eggs, tomatoes, cucumbers, jam, honey, and spicy meat. Image via pocketcultures)
More pictures on page 2 – click below!
Kommentare
4 Antworten zu "Breakfast Cultures from Around the World (16 Pictures)"