Modern Portraits With Old Techniques by Jody Ake (13 Pictures)
Melancholisch, düster, im Inneren selbst versunken, emotional abgeschottet und gleichzeitig berührend und einnehmend erscheinen die wundervollen Portraits des in Portland lebenden Fotografen Jody Ake. Man wähnt sich in vergangene Zeiten zurück versetzt, betrachtet das Antlitz scheinbar Verstorbener und beginnt Lebensgeschichten und mögliche Dramen hinter den Portraits zu spinnen. Jody Ake hat mit seiner Arbeit eine wohlige Verwirrung der Zeit geschaffen und den Bildern durch ihre äußere Beschaffenheit eine weitere Zeit- und Bedeutungsebene hinzugefügt. Durch den "wet collodion" Prozess liefert Ake seine Bilder dem Zufall aus. Faktoren wie Zeit, reagierende Chemikalien und Temperatur erzeugen eine Art kontrolliertes Chaos bei der Herstellung. Die Bilder scheinen einen förmlich dazu zu zwingen, sich länger mit ihnen zu beschäftigen. Das rauhe, grobe, gebrochene und scheinbar unvollkommene Wesen dieser Bilder ist eine visuelle Wohltat in Zeiten der oftmals glatten, perfekten und manipulierten Digitalfotografie.
Jody Ake creates portraits, nudes, still lifes and landscape images using the wet collodion processs. Invented in 1851, the method entails coating a glass plate with collodion and exposing the plate while it is still wet. The end results are ambrotypes, appearing on glass in the form of a negative until backed by black velvet, thus rendering the positive image.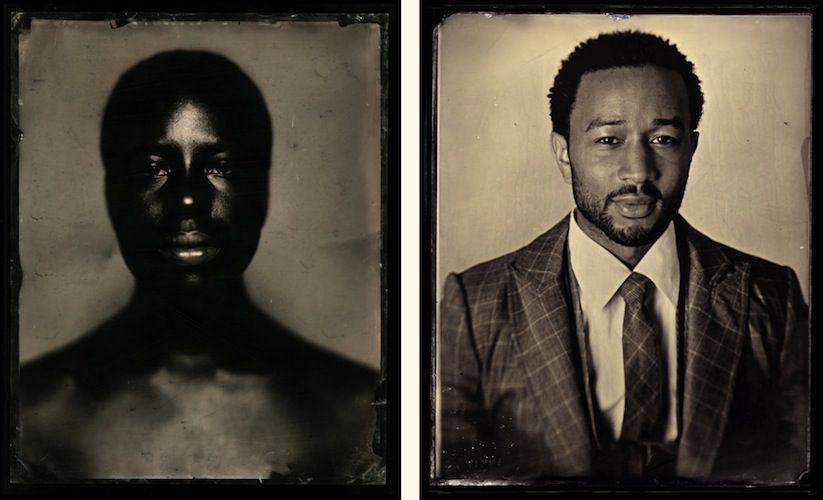 ___
[via Agonistica]
Facebook Comments:
Kommentare