Makeup Artist Maria Malone-Guerbaa transforms herself into famous Personalities (10 Pictures)
Die 40jährige MakeUp-Künstlerin und Visagistin Maria Malone-Guerbaa hat das große Talent, sich mittels MakeUp in jeden Celebrity (oder Whatnot) zu verwandeln, in den sie möchte. Hierfür benutzt sich nichts Anderes als ihre altbekannten MakeUp-Utensilien. Im Laufe der letzten paar Jahre sind einige bekannte Persönlichkeiten zusammengekommen, wir haben heute eine Auswahl an MakeUp-Lookalikes von Nelson Mandela (hier auf Bild #2 sieht man sehr schön die einzelnen Stufen ihrer Transformation), Freddie Mercury, die Queen, Wayne Rooney, Morgan Freeman und meine beiden Favos: Jack Nicholson in "The Shining" und Bob Marley. Nice:
40-year-old London-based makeup artist, Maria Malone-Guerbaa has the ability to transform herself into any celebrity or creature using only her basic makeup essentials. Maria used only make up and face paints to create the illusion of Nelson Mandela, Britain's Queen Elizabeth II, and many other A-list celebrities.

Nelson Mandela stages of face paint

Footballer Daniel Sturridge

Freddie Mercury

Footballer Wayne Rooney

The Queen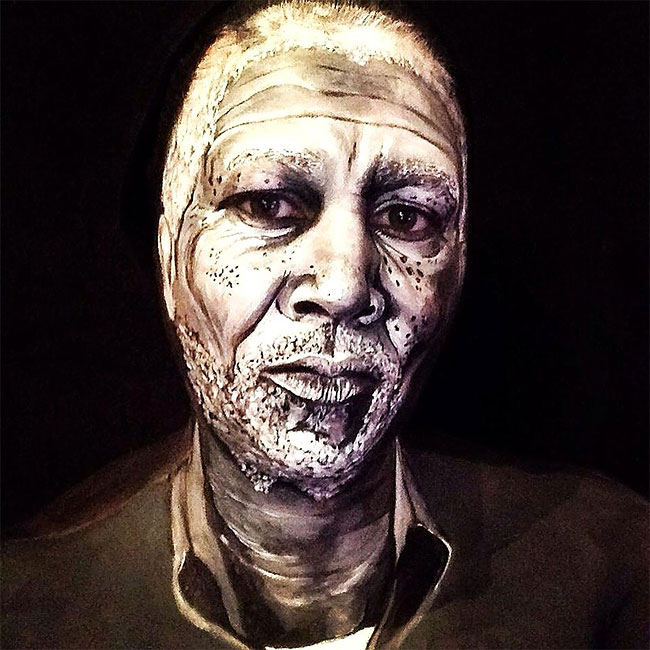 Morgan Freeman

Angelina Jolie in "Maleficent"

Jack Nicholson in "The Shining"

Bob Marley
___
[via designyoutrust | All Photos © by Maria Malone-Guerbaa]
Facebook Comments:
Kommentare
Eine Antwort zu "Makeup Artist Maria Malone-Guerbaa transforms herself into famous Personalities (10 Pictures)"