Banksy – "Better Out Than In" in New York City – Days 1-13 Recap (22 Pictures + 3 Clips)
Wie berichtet ist Banksy den gesamten Oktober im Rahmen seines "Better Out Than In"-Projektes in New York unterwegs, wo er täglich mit einem neuen Artwork die gesamte Stadt ein wenig auf Vordermann bringt. Das erste Piece habt Ihr ja bereits gesehen, ich habe es mit all den anderen, sehr famosen Artworks/Installationen der letzten Tage noch einmal hier rübergeholt. Besonders beachtlich ist übrigens die aktuelle Aktion, Tag 13: Banksy verkauft ein paar original signierte Artworks auf Leinwand, die auf dem Kunstmarkt locker mit bis zu 1 Mio. gehandelt werden, für schlappe 60$ auf einem kleinen Stand am Central Park. Der Verkäufer wirkt nicht besonders ambitioniert und auch sonst geht vermutlich keiner davon aus, dass es sich hierbei um echte Banksys handeln würde – wobei doch gerade Banksy-Monat in NY ist – wer das wusste wäre klar im Vorteil gewesen, dazu gibt es ganz unten ebenfalls noch ein herrliches Video. Sämtliche Werke findet Ihr jetzt inklusive der Angabe des jeweiligen Tages … nach dem Jump:
"We are trying to find ways not to post a Banksy story each day during the month of "Better Out Than In", and its getting hard. Today is a recap of all that has gone on in the streets of NYC from day one to day 13 – enjoy!"
Tag 1: The street is in play – Manhattan
Tag 2: New York Accent – Westside
Tag 3: You complete me – Midtown
Tag 4: Delancey, Bushwick, Williamsburg
Tag 5: Garden Truck – All City
A New York delivery truck converted into a mobile garden (includes rainbow, waterfall and butterflies).
Tag 6: Rebel Rocket Attack
[youtube]http://www.youtube.com/watch?v=FsF3HspQY6A[/youtube]
Tag 7: Paved Heart – Brooklyn
Tag 8: Philosopher – Greenpoint
Tag 9: Lower East Side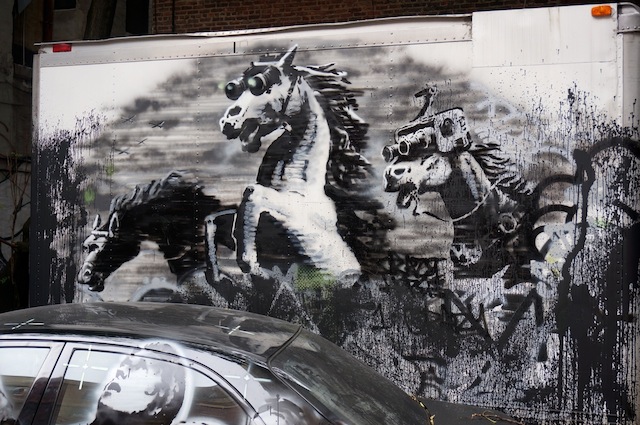 Tag 10: East New York
Tag 11: Sirens Of The Lambs – Meatpacking District
The Sirens of the Lambs. A slaughterhouse delivery truck touring the meatpacking district and then citywide for the next two weeks.
Clip:
[youtube]http://www.youtube.com/watch?v=WDIz7mEJOeA[/youtube]
Tag 12: Concrete Confessional – Manhattan
Tag 13: Banksy Stall-Store @ Central Park
"Yesterday I set up a stall in the park selling 100% authentic original signed Banksy canvases. For $60 each." – Banksy
Clip:
[youtube]http://www.youtube.com/watch?v=zX54DIpacNE[/youtube]
___
[via BanksyNY]
Kommentare
Eine Antwort zu "Banksy – "Better Out Than In" in New York City – Days 1-13 Recap (22 Pictures + 3 Clips)"