Still Diet – Celebrity Fad Diets As Still Lifes (10 Pictures)
Irgendwie beruhigend zu sehen, dass sich auch vermeintliche Überfrauen wie Beyoncé mit Diäten und dadurch angeregter Darmtätigkeit herumplagen müssen. Ihre "Cleansing diet" (siehe Bild oben) besteht aus Zitronenlimonade, Cayennepfeffer, Tee und Ahornsirup. Na dann… Gott sei Dank gibt es WLAN auf der Toilette. Auch Bill Clintons Kohlsuppendiät tanzt mit einer Magen-Darm-Disco Hand in Hand. Statt Schmetterlingen gibt es hier Stroboskopgewitter im Bauch. Da ist Kates "Hollywood Diet" doch eher mein Ding. Nicht besonders gesund, aber macht zumindest Spaß. Das banale Diäten, bzw. daß das Potpourri der Bestandteile aber auch irgendwie überspitzt schön und kunstvoll sein können, zeigt der italienische Fotograf Dan Bannino mit seiner Serie "Still Diet". Utensilien und Zutaten altmeisterlich arrrangiert, komponiert und ins rechte Licht gerückt. Er selbst sagt über die Serie: "My aim was to show how this weirdness hasn't changed even since the 15th century." Ist ihm meiner Meinung nach auch gelungen.
For a series entitled Still Diet, Italian photographer Dan Bannino has combined the aesthetic of the Renaissance masters with modern day pop culture, turning the constantly publicised "fad diets" of the rich and famous into beautiful still lifes.

Mariah Carey – "Purple diet"

Kate Moss – "Hollywood diet"

Gwyneth Paltrow – "Strict detox diet"

Matthew McConaughey – "Protein diet"

Bill Clinton – "Cabbage soup diet"

Simon Cowell – "Life enhancing"

Charles Saatchi – "Eggs diet"

Lord Byron – "Romantic poet's diet"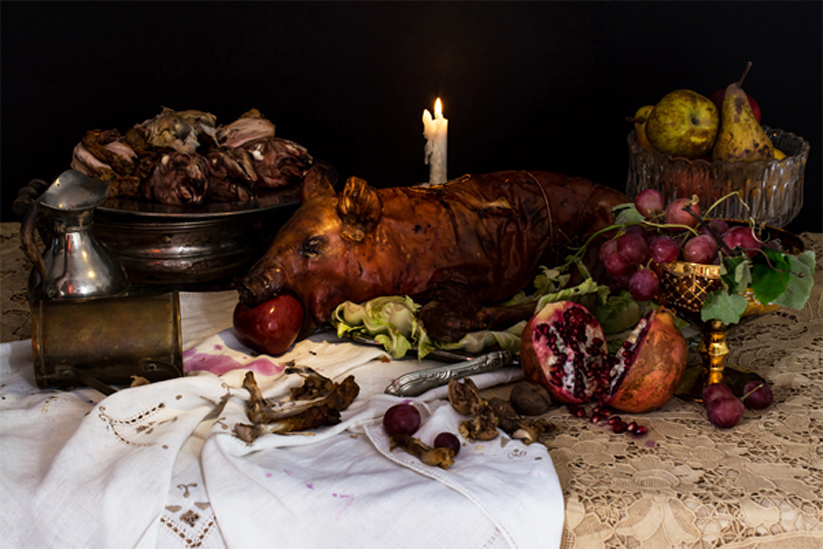 Henry VIII – "The banquet diet"
___
[via HUH magazine]
Facebook Comments:
Kommentare