Portraits Using Food And Drinks by Vivi Mac (w/ Lauryn Hill, Ice Cube, Eminem + more, 9 Pictures)
Vielleicht habt Ihr auch schonmal im Essen herumgestochert oder mit dem ausgelaufenem Milkshake auf dem McDonalds-Tablett herumgemalt. Das, was die aus Frankreich kommende Künstlerin Vivi Mac allerdings mit Milch, Kakao, Barbecue-Sauce, Karamellcreme, Honig, Salz oder Kaugummi auf's Tablett zaubert, das habt Ihr so bestimmt noch nicht hinbekommen. Die Künstlerin versucht, einen Bezug zwischen Werkstoff und Künstler zu schaffen, so besteht beispielsweise Ice Cube aus gecrushtem Eis (Bild #6), Bruce Lee (auf französisch "Lait") aus Milch (Bild # 3) und Captain Jack Sparrow aus … Rum (Bild #9).
Gearbeitet wird mit sowohl einfachem als auch naheliegendem Equipment. Wenn es sich um sehr flüssige Materialien wie z.B. Milch oder Kakao handelt, dann wird das Portrait mit einem klassischen Strohhalm auf das Tablett gebracht. Bei den in der Konsistenz etwas festeren Lebensmitteln wie Honig, Barbecue-Sauce oder Karamellcreme wird mit kleinen Schabern und mit Messern gearbeitet. Beim Ice Cube-Artwork aus Salz und Eis oder bei Yoda aus Kaugummi (Bild #7) wird dann auch mal der Fingernagel eingesetzt – in Zeiten, in denen man sich das Nageldesign selber machen kann, ist das ja alles kein Problem. Weitere Bilder gibt es in dem dazugehörigen Set der Künstlerin und unter den Bildern gibt es noch einen Making-of-Clip zu besagtem Bruce Lee-Artwork – enjoy:
"Despite not having any formal art training, France-based freelance artist Vivi Mac has created a series of incredible celebrity portraits using anything from chocolate milk to crushed ice. The series is titled 'Art Ephemere', referencing the temporary nature of her food-based artworks. Her choice of food in each artwork usually derives from a food-related pun in the celebrity's name. For example, her portrait of Ice Cube uses crushed ice cubes, while her Bruce Lee portrait in milk is titled 'Bruce Lait' ("lait" is French for milk). Vivi Mac learnt the basics of drawing and painting from online resources, such as Facebook and blogs. She first started with speed painting and body painting, but it was only after "she began experimenting with various foods that her art got serious coverage".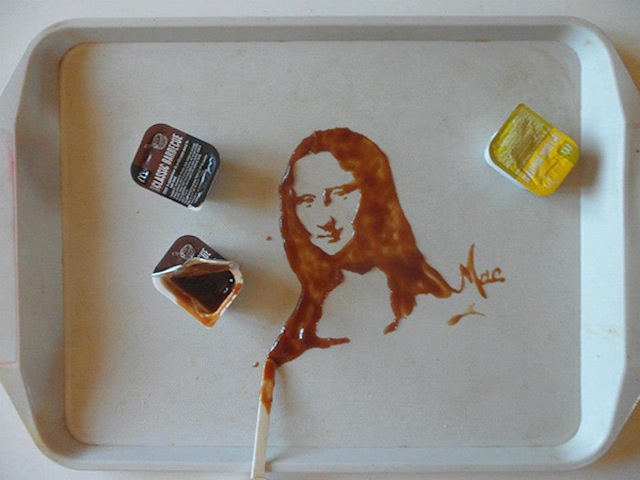 Clip:

___
[via designtaxi]
Facebook Comments:
Kommentare
3 Antworten zu "Portraits Using Food And Drinks by Vivi Mac (w/ Lauryn Hill, Ice Cube, Eminem + more, 9 Pictures)"