"Klek Shops" – Knee Shops out of Basements in Sofia // Bulgaria (8 Pictures)
Nachdem Ende der 80er zu Berliner Mauer fiel wollte man auch in Bulgarien so schnell wie möglich weg vom Kommunismus, die Menschen dort wollten ihre eigenen Geschäfte eröffnen. Da die Mietpreise zu der Zeit aber ziemlich hoch waren, überlegten sich viele, ein Ladengeschäft von zuhause aus zu betreiben, der Keller stand schließlich so gut wie leer. Verkauft wurde also aus dem Kellerfenster, welches sich im besten Falle in Kniehöhe befand – und so entstanden in Sofia die heute noch legendären "Klek Shops" (Knie-Läden – hier noch viel mehr Bilder der Fotografin sograph). Ein wenig absurd und gerade daher sehr charmant, für Meniskus-Patienten dennoch nicht die erste Wahl. Gerade, wo sich diese Shops in Osteuropa befinden frage ich mich, wie man verfährt, wenn jemand etwas aus der Auslage mitgehen lässt – so schnell kommt man aus dem Kellerloch ja nicht hinterher?! Sei's drum – nice one:
"After 1989, when the Berlin Wall came down, the people in Bulgaria's capital, Sofia, wanted to move away from communism as fast as possible, so they opened up their own businesses. However, with rent prices so high, many convenience stores were operated out of basements through a tiny window storefront at ground level. The little stores became known klek (knee) shops because in order to pay the vendor and get your convenience items, a person had to kneel down."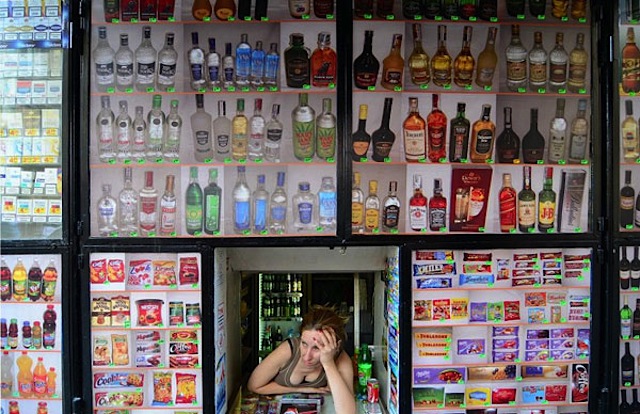 More pictures on page 2 – click below!
Facebook Comments:
Seiten: 1 2
Kommentare
4 Antworten zu ""Klek Shops" – Knee Shops out of Basements in Sofia // Bulgaria (8 Pictures)"