"IN EXTREMIS" – New Hilariously Photos of People Posed as If They Have Just Fallen by Sandro Giordano
Das absolut herrlich, dunkel-humoristisch daherkommende Foto-Projekt "In Extremis (Bodies with no regret)" des Künstlers Sandro Giordano haben wir Euch bereits vor 2 Jahren erstmals hier auf WHUDAT vorgestellt. In seiner Reihe inszeniert der gute Mann bekanntlich sorgfältig und sehr gestylt, Menschen die sich soeben nach allen Regeln der Kunst und auf extrem unangenehme Weise lang gelegt haben. Alle Modelle umklammern dabei mit ihren Händen Gegenstände des alltäglichen Lebens, von denen sie sich auch während ihrer vermeintlichen Stürze nicht trennen konnten. Im allgemeinen möchte Giordano hier auf humorvolle Weise dazu aufrufen, auch noch so lieb gewonnene materielle Besitztümer, nicht vor die eigene Sicherheit zu stellen. Direkt hier unten haben wir ein ganze Rutsche aktueller Bilder, der extrem unterhaltsamen "IN EXTREMIS"-Serie für Euch. Biddeschön:
Photographer Sandro Giordano has a darkly hilarious series on Instagram titled 'In Extremis (bodies with no regret)' featuring people posed as if they have just fallen. Meticulously-staged and styled, he captures his subjects in awkward and uncomfortable-looking positions while surrounded by their belongings, always with an object in hand. According to Giordoan, the series comments on the willingness of people to place their material possessions before their own safety.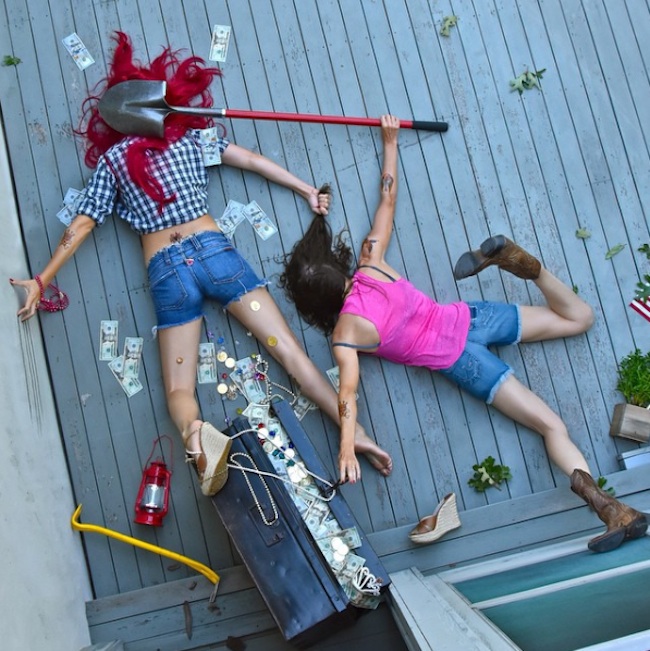 ___
[via Instagram]
Facebook Comments:
Kommentare