Bacteria And Virus Glass Sculptures (16 Pictures)

(E. Coli – Escherichia coli)
Passend zur aktuellen Grippe-Welle hier ein paar wunderschöne Viren und Bakterien, als Glasskulpturen für eine schönere Deko – da lachen Arzt und Apotheker. Der aus dem vereinigten Königreich kommende Luke Jerram ist verantwortlich für diese 12 Skulpturen (und ausdrücklich nicht für die Krankheiten!), all diese Kunstwerke sind mundgeblasen [sic!] und wurden bereits in diversen Museen ausgestellt, aktuell gibt es sie im National Centre for Craft and Design zu bestaunen. Wer hätte gedacht, dass die Ev71 Hand-Fuß-Mund-Krankheit so wunderschön aussehen kann. Gesundheit:
"While the flu season is upon us and has no intention to retreat from its point of apogee, getting to know the enemy better could be a good idea. UK-based artist Luke Jerram introduces us to various bacteria, viruses and parasites through art. The artist creates glass-blown sculptures of viruses and bacteria magnified approximately 1,000,000 times."
Malaria:
Swine Flu (spherical) – Schweinegrippe (sphärisch):
Swine Flu (oval) – Schweinegrippe (oval):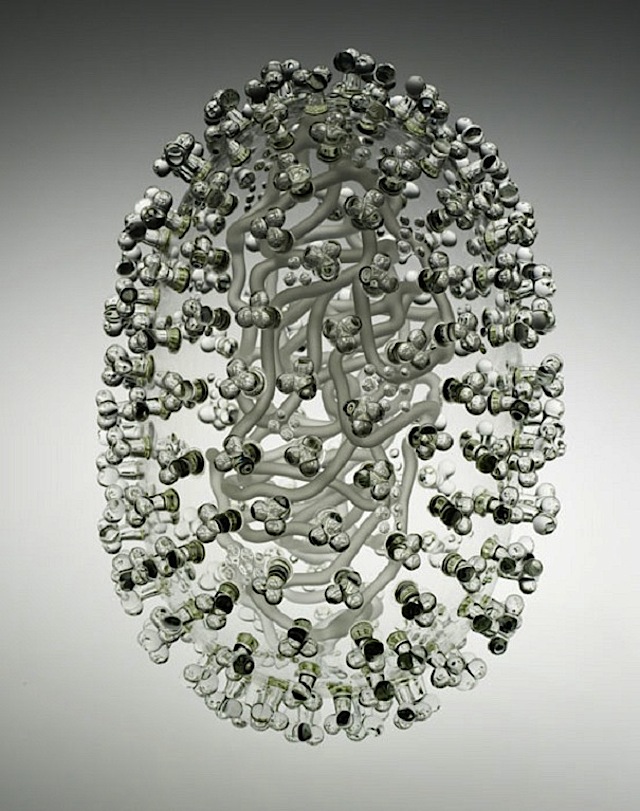 T4 Bacteriophage – T4-Bakteriophage:
HIV:
Ev71 – Hand, Foot and Mouth Disease – Hand-Fuß-Mund-Krankheit:
More pics on page 2 – click below!
Facebook Comments:
Seiten: 1 2
Kommentare