"12 Shoes for 12 Lovers" – Original Shoes by Sebastian Errazuriz (12 Pictures)

1. Jetsetter Jessica
Schöne Fotoserie von dem aus New York kommenden Künstler Sebastian Errazuriz, der für all seine Ex-Freundinnen jeweils ein paar Schuhe gemäß ihres jeweiligen Charakters entworfen hat. Scheint mir ein recht buntes Leben zu führen, der Herr Errazuriz, was man von einem heterosexuellen Schuh-Designer aber wohl auch erwarten darf.
Das passende Präsent für jede Ex-Freundin
In "12 Shoes for 12 Lovers" bekommen alle Exes ihr Fett in Form von wohlproportionierter Botten weg, ob es sich nun um die Jetsetterin handelt, Miss Gold-Digger, die Heulsuse, den Boss, den Felsen, das Gespenst oder "GI Jane Barbara" – Errazuriz ist Niemandem böse, jede bekommt ihr ganz eigenes Schmuckstück, wie es schöner wohl auch bei VALMANO kaum zu finden wäre. Das Lustigste: dieses Schuhwerk wird tatsächlich so hergestellt, der Mann arbeitet mit einer bekannten Shoe-Company zusammen. Ich könnte mir vorstellen, dass Vivienne Westwood und Karl Lagerfeld bei diesen Bildern Glückstränchen in den Augen haben würden – viel Spaß:
"Others, I was a little concerned. There are a couple I just knew would be bad. There's a husband and a boyfriend that could be quite upset, but my stories have no real names and the photos don't show any faces." – Sebastian Errazuriz
2. Gold Digger Alison
3. Cry Baby Alexandria
4. The Boss Rachel
5. Honey Natasha
6. Hot B Caroline
7. The Virgin Anna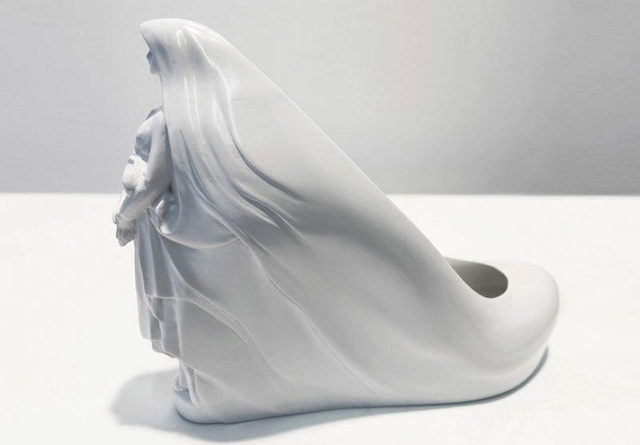 More shoes on page 2 – click below!
Facebook Comments:
Seiten: 1 2
Kommentare
Eine Antwort zu ""12 Shoes for 12 Lovers" – Original Shoes by Sebastian Errazuriz (12 Pictures)"